The Priory of the Orange Tree (Hardcover)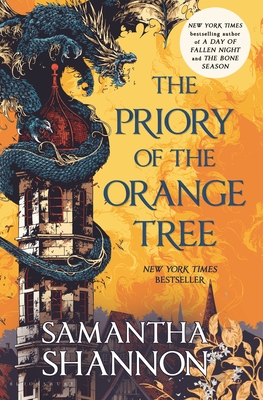 Staff Reviews
---
Shannon has created an incredibly intricate fantasy world that sweeps over continents and seas. Filled with dragons, prophecies, and magic that springs from the wells of immortal trees. A queen, a sorceress, and a dragon rider from opposite ends of the world find their fates entwined as the end of a centuries-long peace between humankind and nightmarish, dragon-like creatures nears. This book completely absorbed me from the very first page, the characters are complicated and sympathetic, and the settings are so vivid and unique. The different threads of the story come together at just the right times, and the resolution is worth every single one of these 800 pages.
— Caroline
Description
---
The New York Times bestselling "epic feminist fantasy perfect for fans of Game of Thrones" (Bustle).

A world divided.
A queendom without an heir.
An ancient enemy awakens.
The House of Berethnet has ruled Inys for a thousand years. Still unwed, Queen Sabran the Ninth must conceive a daughter to protect her realm from destruction--but assassins are getting closer to her door.
Ead Duryan is an outsider at court. Though she has risen to the position of lady-in-waiting, she is loyal to a hidden society of mages. Ead keeps a watchful eye on Sabran, secretly protecting her with forbidden magic.
Across the dark sea, Tané has trained all her life to be a dragonrider, but is forced to make a choice that could see her life unravel.
Meanwhile, the divided East and West refuse to parley, and forces of chaos are rising from their sleep.
About the Author
---
Samantha Shannon studied English Language and Literature at St. Anne's College, Oxford. The Bone Season, the first in a seven-book series, was a New York Times bestseller and the inaugural Today Book Club selection. The Mime Order followed in 2015 and The Song Rising in 2017. Her work has been translated into twenty-six languages. She lives in London.
@say_shannon
www.theboneseason.com
Praise For…
---
"Mesmerizing." - Washington Post
"A timelessly relevant classic. Brilliant, diverse, feminist, subversive, thought-provoking, and masterfully told, The Priory of the Orange Tree is an absolute must-read." - Karen Marie Moning, #1 NYT bestselling author of the Highlander and Fever series
"A brilliant, daring, and devastating jewel . . . An incredible world full of depth and danger, with characters I would follow to the ends of the earth. I'm in awe of [Shannon's] talent." - Victoria Aveyard, #1 NYT bestselling author of the Red Queen series
"An epic feminist fantasy perfect for fans of 'Game of Thrones' . . . A rich and engaging high fantasy novel that puts women and their stories front and center, The Priory of the Orange Tree will pull you into its magical world from the first page." - Bustle
"An intricately realized and feminist fantasy . . . one might even be tempted to dub Samantha Shannon, 'The female George R.R. Martin." - Hypable
"A fascinating epic fantasy set in a rich, well-developed world. Shannon has created fertile narrative ground." - New York Review of Books
"This magnificent epic of queens, dragonriders, and badass secret wyrm-slaying priestesses is a tour de force, and my new absolute favorite epic fantasy." - Laini Taylor, NYT bestselling author of the Strange the Dreamer and Daughter of Smoke and Bone series
"Spellbinding . . . extraordinary . . . A well-drawn feminist fantasy with broad appeal for fans of the epic and readers of Zen Cho, Naomi Novik, and V. E. Schwab. Highly recommended." - Booklist, starred review
"A celebration of fantasy that melds modern ideology with classic tropes. More of these dragons, please." - Kirkus Reviews, starred review
"An astonishing achievement." - Marie Brennan, award-winning author of The Memoirs of Lady Trent series
"An epic fantasy destined to be a classic." - Kami Garcia, #1 NYT bestselling coauthor of Beautiful Creatures and author of Unbreakable
"The Platonic Ideal of a fantasy novel . . . This story of good and evil, struggle and triumph, love and loss and return is beautifully written: complex but clear, and utterly immersive. I loved this book." - Nicola Griffith, award-winning author of Hild
"The Priory of the Orange Tree isn't our grandfathers' epic fantasy novel. It is a clever combination of Elizabethan England, the legend of St. George and Eastern dragon lore, with a dash of Tolkien. Shannon's feminist saga has enough detailed world-building, breath-taking action and sweeping romance to remind epic fantasy readers of why they love the genre in the first place. Modern sensibilities integrate seamlessly with genre tropes . . . Readers will beg for a sequel." - Shelf Awareness
"Shannon satisfyingly fills this massive standalone epic fantasy with court intrigue, travel through dangerous lands, fantastical religions, blood, love, and rhetoric." - Publishers Weekly