A Long Way from Douala: A Novel (Paperback)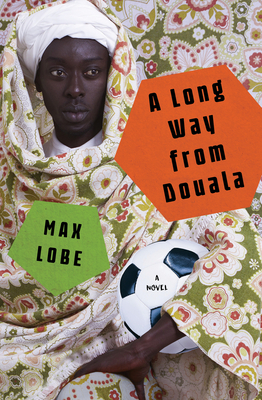 Description
---
Bursting with local color, this hilarious, heartwarming coming-of-age tale follows two friends on a raucous journey across Cameroon as they grapple with grief, sexuality, and dreams of leaving. 

After their father's sudden death, Jean's older brother Roger decides he's had enough of their abusive mother and their city. He runs away to try his luck crossing illegally into Europe, in the hope of becoming a soccer star abroad. When no news of him reaches the family, and the police declare that finding some feckless brat isn't worth their time, Jean feels he has to act. Aiming to catch up with Roger before he gets to the Nigerian border, Jean enlists the help of the older Simon, a close neighborhood friend, and the two set out on the road. 

Through a series of joyful, sparky vignettes, Cameroon life is revealed in all its ups and downs. Max Lobe insightfully touches on grave, complex issues, such as the violence Boko Haram has inflicted on the region, yet still recounts events with remarkable humor and levity.
About the Author
---
Max Lobe was born in Douala, Cameroon. At eighteen he moved to Switzerland, where he earned a BA in communication and journalism, and a master's in public policy and administration. In 2017 his novel Confidences won the Ahmadou Kourouma Prize. A Long Way from Douala was published in 2018 to rave reviews in Switzerland and France. He is the founder of the Genev'Africa program, which promotes literary and cultural exchange between French-speaking Switzerland and Africa. He lives in Geneva.

Ros Schwartz is an award-winning translator of more than a hundred works of fiction and nonfiction, including the 2010 edition of Antoine de Saint-Exupéry's The Little Prince. Among the francophone authors she has translated are Tahar Ben Jelloun, Aziz Chouaki, Fatou Diome, Dominique Eddé, and Ousmane Sembène. In 2009 she was made a Chevalier de l'Ordre des Arts et des Lettres, and in 2017 she was awarded the John Sykes Memorial Prize for Excellence by the UK-based Institute of Translation and Interpreting.
Praise For…
---
"Artfully constructed and absorbing…Lobe has the ability to summon up whole worlds in a careful economy of phrase, bringing individuals and communities to life beyond the photogenic opportunism of breaking news." —Irish Times, The Best New Books in Translation
 
"Max Lobe has emerged as a name to watch…for his topical, rip-roaring explorations of life, society and politics in both his birth and adopted countries…There's a lot to like about his straight-talking prose and sparky, Camfranglais-sprinkled dialogues, and I'd happily have stayed on board for longer." —European Literature Network
 
"Max Lobe is a brilliant young talent…This defiant and uplifting immigrant's story is powerful and persuasive…[a] stylish and colorful tale, rich and insightful." —NB Magazine
 
"The stretching Cameroonian roads take on a character of their own. Max Lobe's style is direct, sensual, and wholly unique." —Afrique Magazine

"Max Lobe writes about danger and uncertainty with unwavering compassion and hope. A Long Way from Doula—a coming-of-age road trip bursting with love and humor—traces the delicate bonds between parent and child, childhood and adulthood, life and death." —Catherine Lacey, author of Pew

"Max Lobe's A Long Way from Douala hits all the sweet spots of a road-trip book: a cast of wild travelers, hurdle after hurdle, and some boneshakingly funny moments. Even with the presence of Boko Haram looming, which adds a frightful dimension, the book never loses its tenderness. I was rooting hard for Jean and Simon." —Ayesha Harruna Attah, author of The Hundred Wells of Salaga

"Lobe's poignant tale weaves into a bustling Cameroonian tapestry and explores the complexity of family relationships, love, identity, and dreams. We understand why some people run away from home and why they may never look back." —Yejide Kilanko, author of A Good Name

"Redolent with the sights, sounds, and smells of modern Cameroon, this is in fact a classic road trip, a Homeric quest in which our two young heroes may not discover what they were seeking but learn a great deal about themselves, each other, and the state of Africa. A jostling, poignant tale, it left me hungry for more." —Michela Wrong, author Borderlines and It's Our Turn to Eat
 
"[Max Lobe's] eye is as compassionate as his characterizations are rich. I only wish this novel had been twice the length. You are in for a treat." —Patrick Gale, author of Take Nothing With You

"A Long Way from Douala presents readers with nuances of contemporary Cameroon in an age of social media where competing motives related to religion, sport (football), and familial dynamics shift our expectations of the coming-of-age novel. Enlightening for its function as a domestic travel narrative as well as a political survey of the terrorist threats of Boko Haram, the novel reorients us to the meaning of brotherhood and to what drives young people toward migration to Europe. The novel is like a new folklore with updated riddles to challenge us to decipher the best course of action along life's journey and its crossroads." —Christel N. Temple, Professor of Africana Studies, University of Pittsburgh

"A Long Way from Douala is a lovingly told story about friendship and self-discovery. This brilliant book chronicles two Cameroonian boys from a relatively sheltered upbringing coming of age through an intimate encounter with the diverse worlds and complex characters that make up the Cameroonian experience." —Ainehi Edoro-Glines, Assistant Professor, University of Wisconsin-Madison
Free Media Mail shipping on U.S. orders over $50