FREE Media Mail shipping on eligible items! We are open for browsing by appointment from 10am-7pm M-S and 10am-6pm Sundays. Email books@quailridgebooks.com for a reservation. Phones may not be answered due to high volume of calls.
Sacred & Delicious: A Modern Ayurvedic Cookbook (Paperback)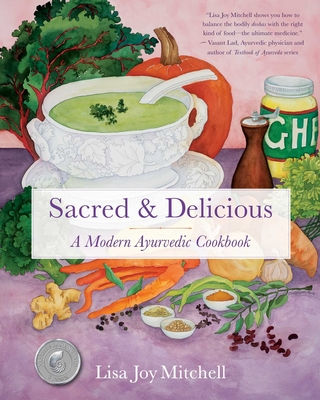 Description
---
Sacred & Delicious is an award-winning vegetarian cookbook, a primer on Ayurveda (India's ancient wellness system), and a gorgeous food memoir that celebrates the healing power of food. Author Lisa Mitchell writes inspiring and clear prose about the power of the Ayurvedic system to sustain good health and reverse chronic health problems, recounting her own recovery. The book includes 108 recipes and more than 60 full-page color photos. Most of the dishes include vegan options, and all but two are gluten-free. Only ten of the recipes reflect traditional Indian cooking. The rest demonstrate how to apply the balancing principles of Ayurveda and the creative (yet subtle) use of spices to modern Western cuisines that many Westerners prefer. Mitchell shares the Vedic perspective on why food is sacred and how cooks can bring a sacred intention to their kitchen labors to approach food preparation as spiritual practice. Traditional blessings for food from various cultures are sprinkled throughout the book.
In April 2019, Sacred & Delicious won silver medals in two prestigious book industry awards competitions: the IBPA Benjamin Franklin Awards (in the Body, Mind, Spirit category) and the Nautilus Awards (in the Food, Cooking, and Healthy Eating category). It also won the cookbook category in the Body, Mind, Spirit Book Awards and is a finalist in the Foreword INDIES Book of the Year Awards (to be announced in June).