Biloxi: A Novel (Hardcover)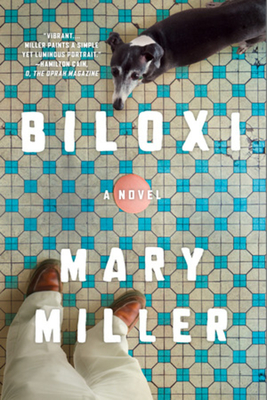 $24.95
Available from warehouse in 1-5 business days
Staff Reviews
---
Since Biloxi, Mississippi is my family home I naturally had to read this.
Louis McDonald Jr. wanders through life very much as he wanders the streets of Biloxi. His wife has left him. He has quit his job (retired?) in anticipation of an inheritance from his father. His ex-brother-in-law feeds him with left overs from restaurants. He drinks a lot of beer and cruises around--an age-old Coast passtime.
Seeing a sign for "Free Dogs" he impulsively stops and adopts Layla, overweight and prone to gagging, and begins living the life of a dog owner.
Louis stumbles toward being a better man, and his evolution is funny and unpredictable. I loved the author's style, and actually have a couple of childhood friends from Biloxi who eerily resemble Louis.
— Anne
Description
---
Mary Miller seizes the mantle of southern literature with Biloxi, a tender, gritty tale of middle age and the unexpected turns a life can take.
Building on her critically acclaimed novel
The Last Days of California
and her biting collection
Always Happy Hour
, Miller transports readers to this delightfully wry, unapologetic corner of the south—Biloxi, Mississippi, home to sixty-three-year-old Louis McDonald, Jr.
Louis has been forlorn since his wife of thirty-seven years left him, his father passed, and he impulsively retired from his job in anticipation of an inheritance check that may not come. These days he watches reality television and tries to avoid his ex-wife and daughter, benefiting from the charity of his former brother-in-law, Frank, who religiously brings over his Chili's leftovers and always stays for a beer.
Yet the past is no predictor of Louis's future. On a routine trip to Walgreens to pick up his diabetes medication, he stops at a sign advertising free dogs and meets Harry Davidson, a man who claims to have more than a dozen canines on offer, but offers only one: an overweight mixed breed named Layla. Without any rational explanation, Louis feels compelled to take the dog home, and the two become inseparable. Louis, more than anyone, is dumbfounded to find himself in love—bursting into song with improvised jingles, exploring new locales, and reevaluating what he once considered the fixed horizons of his life.
With her "sociologist's eye for the mundane and revealing" (Joyce Carol Oates,
New York Review of Books
), Miller populates the Gulf Coast with Ann Beattie-like characters. A strangely heartwarming tale of loneliness, masculinity, and the limitations of each,
Biloxi
confirms Miller's position as one of our most gifted and perceptive writers.
About the Author
---
Mary Miller is the author of three previous books, including the story collection Always Happy Hour and the novel The Last Days of California. She is a former James A. Michener Fellow and John and Renée Grisham Writer-in-Residence. She lives in Oxford, Mississippi.

Praise For…
---
This novel about a man and his dog is also about unexpected connections and the strange turns life can take.... Writing with insight and wit, Miller is both unsparing and sympathetic.... Miller's deliciously engaging, gently quirky, surprisingly hopeful novel seals her spot in the pantheon of Southern fiction writers.
— Kirkus Reviews [starred review]

Excellent... A witty, insightful exploration of masculinity and self-worth... In Louis, Miller captures the insecurities of an imperfect man beyond his prime as he tries to find his purpose in the world, and the result is a charming and terrific novel.

As disagreeable and contrary as they come, Louis is a narrator readers will want to throttle with equal urgency, sometimes simultaneously. Delightful at sentence-level, this is foremost the story of his sluggish-but-sure metamorphosis.... Miller, an absolute master of minutiae, relates Louis' innermost self with poignancy and humor that never sacrifice an ounce of realism.
— Annie Bostrom, Booklist (starred review)

Miller (The Last Days of California) casts light on crushing loneliness in the form of a lost sixtysomething man at the heart of a sweet dog-saves-man story filled with plenty of surprises to keep one turning the pages."

— Beth Anderson, Library Journal

This is a story about second chances, the art of settling, and settling down. Mary Miller knows how to tell a simple story in a spectacular way. She is funny and peculiar and mysterious and wise.
— Helen Ellis, author of Southern Lady Code and American Housewife

If Lorrie Moore's wicked sense of humor and Ernest Hemingway's minimalism had a love-child that love-child would be Mary Miller's Biloxi. Get ready to fall in love with cantankerous Louis McDonald Jr, a singular character as surprised by life as he is surprising. This book is a winner.
— Hannah Pittard, author of Visible Empire

Mary Miller's new novel is a marvel, a deliberate, careful rendering of the slipping-away life of a sixty year old man who discovers, after more than his share of loneliness, desire and calamity, that there is always, after all, the wonder of hope.
— Frederick Barthelme

I've always been a huge fan of Mary Miller's work. Now, with Biloxi, Miller gives us the singular new voice of Louis McDonald Jr., a man grieving his past, trapped in a state of emotional and mental paralysis — until the day he adopts a dog named Layla, who slowly begins to crack his heart open again. I was continually surprised, delighted, and above all moved while reading. A beautiful book from one of southern literature's most important young authors.

— Jamie Quatro, author of Fire Sermon and I Want To Show You More
Coverage from NPR