Handcrafted Bitters: Simple Recipes for Artisanal Bitters and the Cocktails That Love Them (Paperback)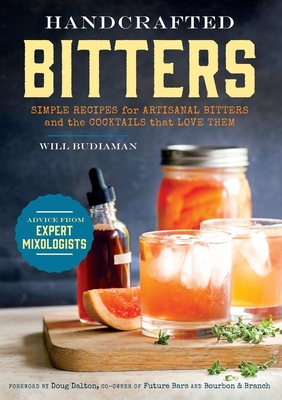 Description
---
With more bitters recipes than any other book--and twice as many cocktail recipes to try them out--Handcrafted Bitters belongs on the shelf of every cocktail enthusiast, kitchen crafter, foodie, and happy drunk.
An expert at simplifying professional techniques for the DIYer, Will Budiaman has created an easy-to-use and adventurous guide that provides all the tools needed to craft your own bitters and take your cocktails to the next level. Seasonal bitters and cocktail recipes, professional tips and tricks, and plenty of cocktail lore and wisdom demystify the art of making bitters at home.
Complete with a foreword by Doug Dalton, owner of Future Bars--including San Francisco's Bourbon & Branch, Local Edition, and Swig--and expert advice from the founders of Scrappy's Bitters and Hella Bitters, Handcrafted Bitters is your complete guide to making your own bitters...and the cocktails that love them.
Recipes include: Orange-Fennel Bitters, Habanero Bitters, Lemongrass Bitters, Rhubarb Bitters, Chocolate Bitters, Grapefruit Bitters, and more.
Free Media Mail shipping on U.S. orders over $75
"Ships from warehouse" books to be shipped: order by Wednesday, 12/6
"Ships from warehouse" books for pickup: order by Tuesday, 12/12