I Must Be Dreaming (Hardcover)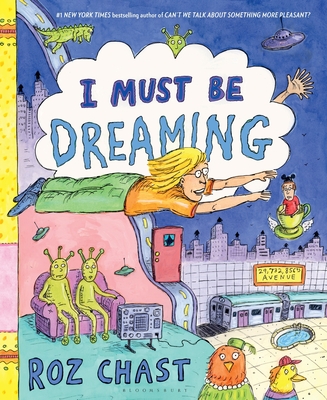 $27.99

Coming soon - PRE-ORDER NOW!
Description
---
#1 New York Times bestselling, award-winning New Yorker cartoonist Roz Chast's new graphic narrative, exploring the surreal nighttime world inside her mind-and untangling one of our most enduring human mysteries: dreams.

Ancient Greeks, modern seers, Freud, Jung, neurologists, poets, artists, shamans-humanity has never ceased trying to decipher one of the strangest unexplained phenomena we all experience: dreaming. Now, in her new book, Roz Chast illustrates her own dream world, a place that is sometimes creepy but always hilarious, accompanied by an illustrated tour through "Dream-Theory Land" guided by insights from poets, philosophers, and psychoanalysts alike. Illuminating, surprising, funny, and often profound, I Must Be Dreaming explores Roz Chast's newest subject of fascination-and promises to make it yours, too.
About the Author
---
Roz Chast's cartoons began appearing in the New Yorker in 1978, where she has since published more than one thousand. She is the author of the graphic memoirs Going Into Town (Winner of the New York City Book Award) and the #1 New York Times bestseller (100+ weeks) Can't We Talk About Something More Pleasant?, a National Book Critics Circle Award and Kirkus Prize winner and finalist for the National Book Award; What I Hate: From A to Z; and her cartoon collections The Party, After You Left and Theories of Everything, among others. She was awarded the Harvey Hall of Fame Award. She lives in Connecticut and New York.
Praise For…
---
"I Must Be Dreaming is Roz Chast at her chastiest, serving up cartoons direct from the source of her apparently vintage chintz-upholstered unconscious. They reduced me repeatedly to spasms of laugh-crying. Indeed, I imagine Freud and Jung are not only spinning in their graves right now, they are peeing their pants." —Alison Bechdel, author of Fun Home and The Secret to Superhuman Strength

"You will laugh constantly while reading Roz Chast's dreamy new book. You might also tear up. It's profoundly reassuring to be reminded that the deep emotional mysteries of life are there waiting whenever we shut our eyes, and even more reassuring to remember that they can be so hilarious." —Liana Finck, author of Let There Be Light and Passing Human

"By turns grim and absurd, deeply poignant and laugh-out-loud funny, Ms. Chast reminds us how deftly the graphic novel can capture ordinary crises in ordinary American lives." —New York Times on CAN'T WE TALK ABOUT SOMETHING MORE PLEASANT?

"[An] extraordinarily honest, searing and hilarious graphic memoir… remarkable." —San Francisco Chronicle on CAN'T WE TALK ABOUT SOMETHING MORE PLEASANT?

"A meandering map of Chast's hilarious mental approach to her beloved town, with all of its oddball shops, subterranean secrets and an abundance of visual stimulation." —Washington Post on GOING INTO TOWN

"Absolutely laugh-out-loud hysterical." —Associated Press on GOING INTO TOWN

"A whimsical, discursive paean to the city."" —O, the Oprah Magazine on GOING INTO TOWN

"Chast treks with extraordinary candor and vulnerability through the maze of her own psyche, mapping out our own in the process." —Maria Popova, The Marginalian

"A tour de force of dark humor and illuminating pathos about her parents' final years as only this quirky genius of pen and ink could construe them." —Elle on CAN'T WE TALK ABOUT SOMETHING MORE PLEASANT?
We will be open on Memorial Day from 10 AM until 6 PM.
Free Media Mail shipping on U.S. orders over $50