GoatMan: How I Took a Holiday from Being Human (one man's journey to leave humanity behind and become like a goat) (Hardcover)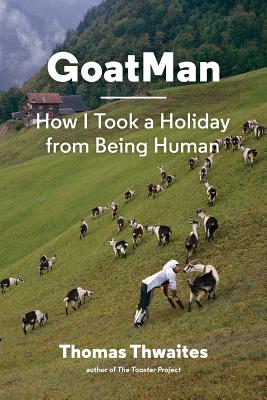 Description
---
The dazzling success of The Toaster Project, including TV appearances and an international book tour, leaves Thomas Thwaites in a slump. His friends increasingly behave like adults, while Thwaites still lives at home, "stuck in a big, dark hole." Luckily, a research grant offers the perfect out: a chance to take a holiday from the complications of being human—by transforming himself into a goat. What ensues is a hilarious and surreal journey through engineering, design, and psychology, as Thwaites interviews neuroscientists, animal behaviorists, prosthetists, goat sanctuary workers, and goatherds.

From this, he builds a goat exoskeleton—artificial legs, helmet, chest protector, raincoat from his mum, and a prosthetic goat stomach to digest grass (with help from a pressure cooker and campfire)—before setting off across the Alps on four legs with a herd of his fellow creatures. Will he make it? Do Thwaites and his readers discover what it truly means to be human?

GoatMan tells all in Thwaites's inimitable style, which NPR extols as "a laugh-out- loud-funny but thoughtful guide through his own adventures."
About the Author
---
Thomas Thwaites develops far reaching design projects, undertakes commissions for private companies, as well as making work for public organisations including London's Design Museum, the Wellcome Trust and the UK Engineering and Physical Sciences Research Council.

His work has been exhibited at major galleries worldwide, including at the National Museum of China, Ars Electronica in Austria, the Zero1 Biennial in California and The Science Museum in London. The Victoria & Albert Museum recently acquired his work, The Toaster Project, for their permanent collection.

He has presented a four part television series, aired on Discovery Channel Asia Pacific in 2013. His first book, The Toaster Project, is published by Princeton Architectural Press, and has now been translated in to Japanese and Korean editions.
Praise For…
---
"A quirkily entertaining exploration of what it means to be human and what it might be like to be a goat." -Kirkus Reviews

"original, engaging and rather quirky book." -The New Statesman

"Thwaites is a lovely writer with a scientific bent and loads of curiosity." -Toronto Star

"The book is full of wonderful photographs of the author in goat mode, including at his ultimate destination among a farmer's herd in Switzerland. This part of the book is riveting, not least because it shows how hard it is to be a goat (or any non-human animal). A scene where the author mistakenly and awkwardly climbs to the top of a hill, putting himself higher than the established, aggressive male goats of the mob, is spellbinding." -The Australian

"Thwaites writes with a puppyish humour and an unquenchable enthusiasm. His book is beautifully designed, with thick, glossy paper and loads of colour photographs of a man in a goat costume clambering over alpine rocks." -Daily Mail

"London designer Thomas Thwaites has turned his bizarre mission to bridge the boundary between Homo sapiens and other species by becoming "GoatMan" into an enlightening and funny book." -The Guardian

"The book is a charming, humorous, and exceedingly thorough account of one man's attempt to use science and technology to take mindfulness woo-woo to its most absurd yet logical conclusion." -Vogue.com

"Thwaites is an artist with an engineer's soul, and he approached becoming a goat through the lens of problem-solving..Rethinking who we are; dreaming up new ways of living; taking ourselves apart to build ourselves back up--for human beings, these activities are natural. They are our never-ending hunt." -The New Yorker

"London-based designer Thomas Thwaites is a free spirit with the soul of an engineer. He tackles zany projects by applying established principles and a sense of humor..Thwaites is an amiable storyteller whose account is accompanied by dozens of photographs of his adventures." -Boston Globe

"Thwaites's experiment is a whacky, refreshingly un-self-serious addition to these age-old conversations. Ultimately, it's about the nature of the human condition, and the strange, sometimes glorious lengths to which people go in attempt to escape it." -Hyperallergic
Coverage from NPR
Free Media Mail shipping on U.S. orders over $50