Sugar Run: A Novel (Hardcover)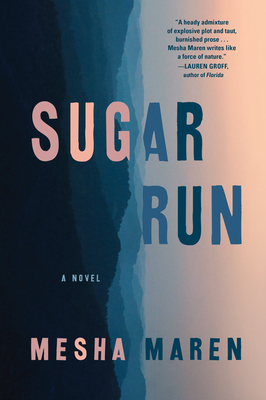 $26.95

Ships from warehouse to store in 3-5 business days
Staff Reviews
---
Once again, I found myself reading something while at the Wildacres Retreat Center in the NC mountains that became a part of the experience. This book has Appalachia written all over it. The main character Jodi, newly released from prison, and the rag-tag assortment of characters she accumulates as the story progresses are defined by the past they want to leave behind and their present struggles to make a go of it in rural West Virginia. There's hard drinking and a lot of drugging, loving and leaving, and a good bit of frustrated anger thrown in for some nail-biting tension. If you like Ron Rash, you're going to love Sugar Run. Maren's writing is so gorgeous and precise that I know whatever she writes, I'm going to want to read it. Mesha Maren will be here to talk about the book on Thursday, Feb. 7th, 2019, at 7 p.m.
— Mamie
A fantastic debut novel, Sugar Run is as good as it gets! Maren is from West Virginia, but currently lives and teaches in North Carolina. She has a literary voice that is original but also inspired by Flannery O'Conner, Cormac McCarthy and Denis Johnson.
— Jason
January 2019 Indie Next List
---
"This is the gritty Southern novel I've always wanted. Maren deftly navigates between two periods in time, telling interconnected, muddled love stories and mixing in stunning images of the West Virginia landscape her characters inhabit. She uses the presence of fracking on the family farm as a multifaceted metaphor, demonstrating how easily we fall prey to the type of immediate relief that will eventually destroy and poison us from within. Dark, yes, but so well-developed, timely, and shocking in its delivery that I absolutely could not put this book down."
— Maggie Fixler, Carmichael's Bookstore, Louisville, KY
Winter 2019 Reading Group Indie Next List
---
"A 17-year-old girl is sentenced to life in prison due to an unfortunate incident with her girlfriend. Eighteen years later, she finds herself unexpectedly released and faces building a life of freedom in a society that is biased against her. She returns to her ancestral land in West Virginia with a new girlfriend, her girlfriend's three boys, and the brother of her deceased lover. This Appalachian survival story unfolds with a terse narrative that captures the hopelessness and lawlessness of a world gone fracking mad."
— Todd Miller, Aradia Bookstore, Flagstaff, AZ
Description
---
"A heady admixture of explosive plot and taut, burnished prose . . . Mesha Maren writes like a force of nature." —Lauren Groff, author of Florida

In 1989, Jodi McCarty is seventeen years old when she's sentenced to life in prison. When she's released eighteen years later, she finds herself at a Greyhound bus stop, reeling from the shock of unexpected freedom but determined to chart a better course for herself. Not yet able to return to her lost home in the Appalachian Mountains, she heads south in search of someone she left behind, as a way of finally making amends. There, she meets and falls in love with Miranda, a troubled young mother living in a motel room with her children. Together they head toward what they hope will be a fresh start. But what do you do with your past—and with a town and a family that refuses to forget, or to change?

Set within the charged insularity of rural West Virginia, Mesha Maren's Sugar Run is a searing and gritty debut about making a break for another life, the use and treachery of makeshift families, and how, no matter the distance we think we've traveled from the mistakes we've made, too often we find ourselves standing in precisely the place we began.
About the Author
---
Mesha Maren's short stories and essays have appeared in Tin House, the Oxford American, Southern Culture, Hobart, Forty Stories: New Writing from Harper Perennial, and elsewhere. She is the recipient of the 2015 Thomas Wolfe Fiction Prize, a 2014 Elizabeth George Foundation grant, an Appalachian Writing Fellowship from Lincoln Memorial University, and fellowships from the MacDowell Colony and the Ucross Foundation. She is the 2018-2019 Kenan Visiting Writer at the University of North Carolina at Chapel Hill and also serves as a National Endowment of the Arts Writing Fellow at the Beckley Federal Correctional Institution.
Praise For…
---
One of Real Simple's Best Books of 2019
One of Southern Living's Best New Books of Winter 2019

"The literary lineages here are hard-boiled fiction and film noir, but on every page of her debut novel, Mesha Maren creates bold new takes on those venerable genres, a much needed refresh of worn tropes and clichés. Maren is masterly at describing America's modern wastelands, the blasted towns not yet and maybe never-to-be the beneficiaries of rehabilitation and reoccupation. You can almost see Maren—like Raymond Chandler—cutting each typed page into three strips and requiring each strip to contain something delightful (startling simile, clever dialogue, brilliant description) offered to the reader as a recompense for a world that presses up against you all raw and aggressive and dangerous. A language that fully owns its power to capture just that 'heart-wild magic.' "
—Charles Frazier, The New York Times Book Review

"A darkly steamy first novel . . . ravishingly rugged . . . a literary page-turner, hair-raising in both plot and prose. Maren writes with windswept grace and stark sensuality."
—O, The Oprah Magazine
 
"Sugar Run is a shining debut, with a heady admixture of explosive plot and taut, burnished prose. This is a book that loves its wounded characters and troubled places, and in so deeply loving, it finds a terrible truth and beauty where other writers wouldn't have found the courage to look. I'm glad to be among the first to sing the praise of this young writer when I say that Mesha Maren writes like a force of nature."
—Lauren Groff, author of Fates and Furies

"Crisp as mountain air and full of grit and heart, Maren's writing announces a new voice in the Appalachian noir genre."
 —Garden Gun

"We love Mesha Maren's Sugar Run, a gritty noir novel like you've never read before."
—Entertainment Weekly
 
"A tense, atmospheric Southern noir spiked with queer themes, Sugar Run weaves between two timelines in its depiction of Jodi, a woman just finishing an 18-year prison sentence."
—Entertainment Weekly (The 50 Most Anticipated Books of 2019)
 
"Sugar Run throttles . . . The clip is fast and exciting."
—Wall Street Journal

"Through exquisite prose and beautifully nuanced storytelling, Maren offers a complicated examination of love, identity, the passage of time, and the way small decisions can propel a life forward.  . . . undeniably tender."
—Bustle
 
"In her darkly crackling debut novel, Mesha Maren takes readers for a wild ride, the kind that feels like you're hurtling down a backwoods road at night, not quite sure if you're ever going to be able to stop, wondering if you might even suddenly take flight. Maren's story jumps back-and-forth in time, following the lives of two women, both aching with their need for love and freedom. Maren details the struggles and triumphs of these women with unflinching precision and language as beautiful and ferocious as a summer storm."
—Nylon.com (50 Books You'll Want to Read in 2019)
 
"In Masha Maren's impressive debut, Jodi McCarty is released from prison after an 18-year sentence and is determined not to repeat past mistakes. While wandering around the South, she meets a young woman named Miranda, who has just left an abusive relationship. Together, they go looking for someone from Jodi's past and head to West Virginia—followe
Coverage from NPR
Free Media Mail shipping on U.S. orders over $50