The Kingmakers (Vampire Empire #3) (Paperback)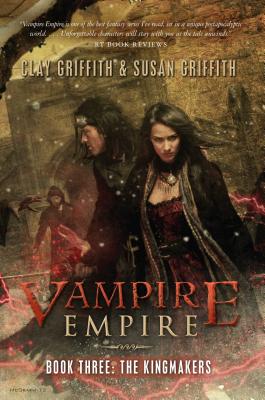 Other Books in Series
This is book number 3 in the Vampire Empire series.
Description
---
The epic Vampire Empire trilogy rushes to a heart-wrenching conclusion of honor and love, hatred and vengeance, sacrifice and loss. A war to the death. Empress Adele has launched a grand crusade against the vampire clans of the north. Prince Gareth, the vampire lord of Scotland, serves the Equatorian cause, fighting in the bloody trenches of France in his guise as the dashing Greyfriar. But the human armies are pinned down, battered by harsh weather and merciless attacks from vampire packs. To even the odds, Adele unleashes the power of her geomancy, a fearsome weapon capable of slaughtering vampires in vast numbers. However, the power she expends threatens her own life even as she questions the morality of such a weapon. As the war turns ever bloodier and Adele is threatened by betrayal, Gareth faces a terrible choice. Their only hope is a desperate strike against the lord of the vampire clans--Gareth's brother, Cesare. It is a gamble that could win the war or signal the final days of the Greyfriar.
About the Author
---
Clay and Susan Griffith, a married couple who have written and published together for more than two decades, are the authors of the Vampire Empire trilogy—The Greyfriar, The Rift Walker, and The Kingmakers—and the Crown & Key trilogy, as well as the first Vampire Empire: A Gareth and Adele novel, The Geomancer. Their credits include numerous short stories featuring noted genre characters like Kolchak the Night Stalker and the Phantom and comic books including The Tick and The Simpsons. They've also written scripts for the television/web show Monster Creature Feature. They live in North Carolina where they play World of Warcraft and struggle to entertain their cat. Visit the authors' website at clayandsusangriffith.com/ and www.facebook.com/#!/vampireempire.
Praise For…
---
Praise for the Vampire Empire trilogy:

"Vampire Empire is one of the best fantasy series I've read, set in a unique postapocalyptic world. The landscapes, the peoples, and the incredible gizmos will attack your senses. Their unforgettable characters will stay with you as the tale unwinds."
- RT Book Reviews

"The best vampire series I have read in ages. . . . I am blown away by it. It has it all: romance, steampunk, vampires, adventure, and impossible odds for the hero to overcome."
- Vampire Librarian

"If I was stuck on a deserted island and could only have one vampire book series with me, my choice would be the Griffiths' Vampire Empire saga. Bye Lestat, farewell Edward. . . . Thank you to the Griffiths for fueling and continuing my love of vampire novels."
- Reader Girls

"Filled with mind-boggling political intrigue, betrayal, deception, magic, and a healthy dose of romance-you will be once again swept away by this burgeoning epic saga. . . . The Vampire Empire series remains at the top of my must-read list in Urban Fantasy."
- Smexy Books
Free Media Mail shipping on U.S. orders over $75