Surprise! It's Gluten Free!: Entrees, Breads, and Desserts so Delicious You Won't Know What's Missing (Paperback)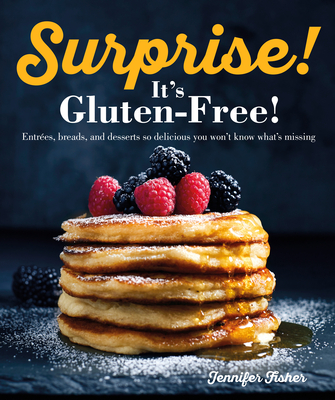 Description
---
Recipes so delicious you won't know what's missing! Gluten-free cakes, desserts, pies, and breads that will make even the most picky eater a gluten-free convert.

Writer and confectionary mastermind Jennifer Fisher has chosen 100 gluten-free recipes to share with you. Whether you are gluten sensitive or have celiac disease, you can still enjoy treats, your favorite sandwiches, pizza, cookies, and other delectable dishes!

This recipe book is loaded with secret tips, well-tested techniques, and mouthwatering flavors that everyone will love. You'll learn to make: 

   • Essential gluten-free flour blends
   • Wheat-free breakfasts  
   • Fish and poultry mains
   • Pork and beef mains
   • Flour-free sides and soups
   • Perfect pizzas and bread
   • Sweet loaves, muffins, and scones
   • Pies and fruity desserts 
   • Cakes and cupcakes 
   • Brownies and cookies 
   • And much, much more!

Making multiple meals based on dietary needs are a thing of the past, and Surprise! It's Gluten-Free makes sure of it. Home cooks who always need to prepare more than one meal can rest assured that the recipes in this gluten-free cookbook will satisfy the entire family. Each recipe has been carefully selected to tickle the taste buds of even the pickiest palate!

Removing gluten from your diet isn't equal to eliminating taste and texture, and these recipes prove it. Loaded with secret tips, well-tested techniques, and wheat-free baking and meal recipes, your family will soon feast on traditional recipes with a twist!
About the Author
---
Jennifer Fisher is a recipe developer and celiac sufferer determined to make all of her favorite foods with gluten-free ingredients. After her diagnosis, she turned her kitchen into a food lab. Through endless experimentation, she's created a repertoire of baked goods and entrées you'd never know were gluten-free—her treats are a raving success! She lives in San Clemente, a small Southern California beach town, with her husband Kirk, their two sons, Max and Rex, and their dog, Fletch.
Free Media Mail shipping on U.S. orders over $50