How to Nourish Your Child Through an Eating Disorder: A Simple, Plate-by-Plate Approach to Rebuilding a Healthy Relationship with Food (Paperback)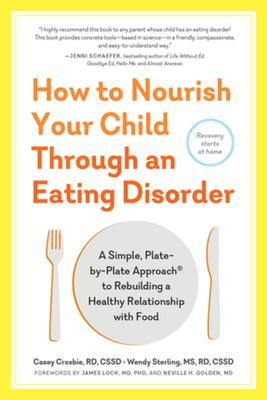 $16.95

Ships from warehouse to store in 3-5 business days
Description
---
Parents are the first to know when their child starts behaving differently. Has your son stopped eating his favorite food, or does he refuse to eat out with friends? Has your daughter drastically increased her exercise regimen, or become obsessed with health foods? These are among the telltale signs that your child, like millions of others, may have an eating disorder (ED).

In this essential guide, registered dietitians Casey Crosbie and Wendy Sterling introduce an all-new strategy you can use to help your child at home. The Plate-by-Plate approach is rooted in family-based treatment (FBT)—the leading psychological therapy for EDs. Unlike complicated "exchange" systems, this is simple: Crosbie and Sterling coach you through every aspect of meeting your child's nutritional needs, using just one tool—a ten-inch plate.

Paired with therapy, this intuitive, visual method is the best way to support your child on the path to recovery. Plus, the authors cover how to talk about diet and weight, what to do while traveling, what to expect from your child's doctor, and much more.
About the Author
---
Casey Crosbie, RD, CSSD, is the program director and lead dietitian at The Healthy Teen Project, a program for adolescent eating disorder recovery in Los Altos, CA. She has been published in Nutrition in Clinical Practice and in the Journal of Adolescent Health.

Wendy Sterling, MS, RD, CSSD, a specialist in eating disorders and sports nutrition, maintains a private practice in Menlo Park and Los Altos, CA, and has been published in the International Journal of Eating Disorders and International Journal of Adolescent Medicine and Health.
Praise For…
---
"[With] simple and clear yet science-backed recommendations, and professional yet compassionate tone . . . I'd recommend this book to any RD who works with young ED clients participating in FBT."—Today's Dietitian

"A key tenet of family-based treatment (FBT) for adolescent anorexia nervosa (AN) is to empower parents so that they (the parents) can bring about weight restoration for their teen. This process is a delicate one—the clinician is to support the parents' efforts without telling them what to do, yet steering them in the right direction. Parents and providers can get tripped up in this task as weight restoration seldom follows a straight upward trajectory. A solid under-standing of the nutritional requirements for recovery in AN is key to getting this task done. That said, the foundation model of FBT does not specify how best to integrate nutritional expertise in this treatment. This book offers a terrific start to this process—it will inform parents rather than prescribe to parents. Crosbie and Sterling take great care to use their nutritional expertise to complement the key FBT tenets. As a result, How to Nourish Your Child Through an Eating Disorder will be a helpful tool not only to parents, but also to the many clinicians who are tasked with supporting parents in their struggle to help their child overcome an eating disorder."—Daniel Le Grange, PhD, Benioff UCSF Professor in Children's Health and Eating Disorders director, Department of Psychiatry and UCSF Weill Institute for Neurosciences, University of California, San Francisco, and emeritus professor of psychiatry and behavioral neuroscience, the University of Chicago

"For the parents of patients with eating disorders, this book, written by two prominent nutritionists, provides a comprehensive understanding of the illness and a practical approach to the refeeding process. Overall, an excellent summary of what parents need to know."—Martin Fisher, MD, chief, Division of Adolescent Medicine, Cohen Children's Medical Center, Northwell Health

"I highly recommend this book to any parent whose child has an eating disorder! How To Nourish Your Child Through an Eating Disorder provides concrete tools—based in science—in a friendly, compassionate, and easy-to-understand way.—Jenni Schaefer, bestselling author of Life Without Ed; Goodbye Ed, Hello Me; and Almost Anorexic

"Parents: This book is your play-by-play for exactly how you can help your child heal their mind and body with food!"—Rebecca Scritchfield, RDN, EP-C, author of Body Kindness

"Casey Crosbie and Wendy Sterling's practical book is an innovative and user-friendly resource on how to nourish a child with an eating disorder back to health. Crosbie and Sterling provide an important adjunctive approach to FBT, the first-line outpatient treatment for eating disorders. This excellent resource offers helpful strategies to empower parents and caregivers to play an active role in their adolescent's recovery."—Debra K. Katzman, MD, FRCPC, Professor of Pediatrics, The Hospital for Sick Children and University of Toronto and Director, Health Science Research, MD Program University of Toronto

"Family-based treatment is extremely effective, yet difficult. How to Nourish Your Child Through an Eating Disorder provides just the help parents need to ensure their child will recover at home."—Marcia Herrin, EdD, MPH, RDN, FAED, author of the Parent's Guide to Eating Disorders and Nutrition Counseling in the Treatment of Eating Disorders

"Offering necessary support to families and caregivers facing an eating disorder, this book will be
Free Media Mail shipping on U.S. orders over $50