We are offering FREE media mail shipping on books. We are open from 10am-7pm Monday through Saturday and 10am-6pm Sunday. Phones may not be answered due to a high volume of calls.
Lions of the West: Heroes and Villains of the Westward Expansion (CD-Audio)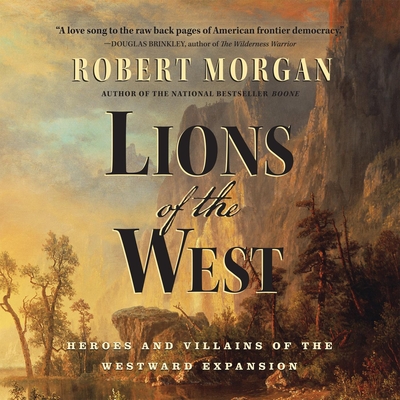 $39.95
Available from warehouse in 1-5 business days
Description
---
Thomas Jefferson, a naturalist and visionary, dreamed that the United States would stretch across the continent from ocean to ocean. The account of how that dream became reality unfolds in the stories of Jefferson and nine other Americans whose adventurous spirits and lust for land pushed the westward boundaries: Andrew Jackson, John "Johnny Appleseed" Chapman, David Crockett, Sam Houston, James K. Polk, Winfield Scott, Kit Carson, Nicholas Trist, and John Quincy Adams. Their tenacity was matched only by that of their enemies: the Mexican army under Santa Anna at the Alamo, the Comanche and Apache Indians, and the forbidding geography itself.
 
 Known also for his powerful fiction (Gap Creek, The Truest Pleasure, Brave Enemies), Morgan uses his skill at characterization to give life to the personalities of these ten Americans without whom the United States might well have ended at the Arkansas border. Their stories—and those of the nameless thousands who risked their lives to settle on the frontier, displacing thousands of Native Americans—form an extraordinary chapter in American history that led directly to the cataclysm of the Civil War.
About the Author
---
DAVID DRUMMOND received an AudioFile Earphones award for his very first audiobook narration effort. Since then, he has recorded nearly fifty audiobooks for many different publishers and in many different genres. He lives with his family in Seattle.
Robert Morgan is the bestselling author of numerous works of fiction—including the Oprah Book Club selection Gap Creek—and non-fiction, and is also an established poet with fourteen collections to his credit. Born in Hendersonville, NC, he teaches at Cornell University in Ithaca, NY, where he is Kappa Alpha Professor of English.
Praise For…
---
"Nobody writes history like Morgan. His books teach and inspire. He gives the past, with all its heroes and villains, a new life, if not a new purpose."
—Southern Literary Review
"Robert Morgan should be declared a national treasure, and his latest work, Lions of the West, is bound to become a classic in the study of American westward expansion."
—Charlotte Observe
"Morgan's accounts of these key players make for an intriguing journey westward. . . . Morgan has given us a stimulating and engaging account of how it all came about."
—Minneapolis Star Tribune
"Drummond's sonorous voice adeptly describes the triumphs and travails. . . . Drummond's performance is both strong and nuanced."
—AudioFile