Khabaar: An Immigrant Journey of Food, Memory, and Family (FoodStory) (Paperback)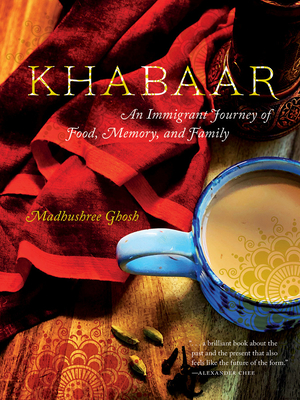 Description
---
Independent Publishers Book Awards (IPPY Awards) gold medalist

Khabaar is a food memoir and personal narrative that braids the global journeys of South Asian food through immigration, migration, and indenture. Focusing on chefs, home cooks, and food stall owners, the book questions what it means to belong and what does belonging in a new place look like in the foods carried over from the old country? These questions are integral to the author's own immigrant journey to America as a daughter of Indian refugees (from what's now Bangladesh to India during the 1947 Partition of India); as a woman of color in science; as a woman who left an abusive marriage; and as a woman who keeps her parents' memory alive through her Bengali food.
About the Author
---
Madhushree Ghosh works in oncology diagnostics, and is a social justice activist. Her work has been awarded a Notable Mention in Best American Essays in Food Writing and a Pushcart Prize nomination. She lives in San Diego, California.
Praise For…
---
"A seemingly effortlessly wise collection of essays that shows again and again the ways writing about food involves more than a story, a political history, or a family legacy, as Ghosh takes the food essay into entirely new directions. The result is a brilliant book about the past and the present that also feels like the future of the form."—Alexander Chee, author, How to Write an Autobiographical Novel: Essays

"In Khabaar, Madhushree Ghosh shares her unforgettable story deftly and beautifully, as only a gifted storyteller can. Like the foods that shape and inform Ghosh's memories and reflections, her intimate, powerful prose is meant to be savored. This memoir, at once global in scope and deeply intimate, is a treasure."—Deesha Philyaw, author, The Secret Lives of Church Ladies

"I have been an enthusiastic follower of Madhushree Ghosh, and have great admiration for her literary talent. But I was not prepared for this new, very powerful, and entrancing work. I highly recommend it. It's unforgettable."—Luis Alberto Urrea, author, The House of Broken Angels

"As thought-provoking as it is delicious, joyful, and a delight to read."—Sonia Faleiro, author, The Good Girls: An Ordinary Killing

"Wildly original. With her scientific sensibility, chef's palate, and poet's heart, Madhushree Ghosh has given us a singular and spectacular read."—Mira Jacob, author, Good Talk: A Memoir in Conversations

"Madhushree Ghosh seamlessly blends stories of food and family, longing and grief, to reveal the power of food to connect us—to the past, to one another, to our appetites and desires, to that which we wish to say when language fails. A book to read with all your senses, Khabaar will break your heart and make it swell."—Lacy M. Johnson, author, The Reckonings: Essays

"Khabaar crackles with energy and passion. This book engages the reader on many levels: it awakens the senses, heightens awareness of racial and gender disparity, and perhaps above all is a powerful love story between its author and her family and country of origin. Ghosh has written a book that educates as it entertains, which is no easy feat. I am enriched for having read it."—Dani Shapiro, author, Inheritance: A Memoir of Genealogy, Paternity, and Love

"Madhushree Ghosh is a talented and exciting voice in the literary field. I'm looking forward to reading everything that she writes now and in the future. This is one writer to watch."—Nayomi Munaweera, author, What Lies Between Us

"Ghosh writes especially well through her memories, from tender (as a child shopping for goat with her father in a bustling Delhi market) to terrifying (desperately escaping a hotel room she was accidentally locked in before a job presentation). . . . A likable food memoir from a self-aware and culturally astute author."
— Kirkus Reviews
Free Media Mail shipping on U.S. orders over $75
"Ships from warehouse" books to be shipped: order by Wednesday, 12/6
"Ships from warehouse" books for pickup: order by Tuesday, 12/12