Meet Mr. Product, Vol. 1: The Graphic Art of the Advertising Character (Hardcover)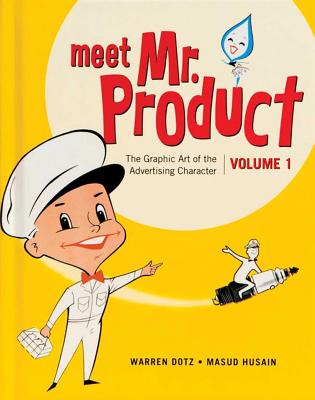 Staff Reviews
---
Boomer Alert - and goofy folk roundup. Anyone who recalls the golden age of advertising 1960-1980 will immediately recognize many of the characters in these tiny, heavy and well-appointed novelty books. So many disappeared characters and misguided concepts, so very, very many bright colors, so many places represented. I thought I'd forgotten but they all came back. If you like this kind of thing, Mr. Dotz has a string of them in all sizes, all seemingly cycling in and out of print.
Description
---
Meet Mr. Product! Meet Chiquita, Tony the Tiger, Elsie the Cow, and hundreds more well-known and not-so-well-known personalities in this colorful celebration of the history and art of advertising characters.

We share our dinner table with them and trust them with our cars and children, and whether we realize it or not, we've been listening to their counsel for generations. With smiling faces and helpful slogans, the Jolly Green Giant, natty Mr. Peanut, the cute little Morton Salt Umbrella Girl, and countless other advertising characters have long helped us navigate the grocery aisles and choose our products. Here in Meet Mr. Product readers find a vibrantly colorful tribute to these pop culture icons. Offering up fascinating tidbits on hundreds of "spokes-characters," this colorful compendium profiles the organization of the characters, their evolution, and most interesting trivia. (Did you know Elsie the Cow is married to Elmer of household glue fame?) Famous faces and a host of recently discovered characters fill Meet Mr. Product's pages to bursting, taking us on a tour of advertising's most charismatic creations.
About the Author
---
Warren Dotz is a collector of pop culture ephemera and the author of 11 books on advertising, design, and commercial label art. His commentary has appeared in Advertising Age, Adweek, and the New York Times Magazine. He divides his time between San Francisco and New York City.