Cow Boy Vol. 1 A Boy and His Horse (Paperback)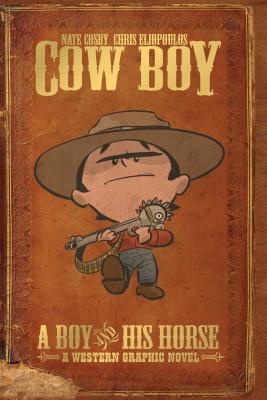 Description
---
The Eisner Award winning all-ages Western debuts in paperback!

Nate Cosby (Pigs, Jim Henson's The Storyteller) and Chris Eliopoulos (Franklin Richards, Misery Loves Sherman) present Cow Boy, the story of a young bounty hunter determined to send his entire outlaw family to jail. He travels the Old West on a horse that ain't his, and won't stop 'til every one'a his kin's in the clink. Also included are short stories by the likes of Roger Langridge (The Muppet Show), Brian Clevinger and Scott Wegener (Atomic Robo), and Mike Maihack (Cleopatra in Space) and Colleen Coover (Jim Henson's The Storyteller).
About the Author
---
Nate Cosby is a freelance writer/editor from Mississippi. He was an editor at Marvel Entertainment for six years, overseeing acclaimed series including the Harvey-Award winning Thor The Mighty Avenger, the Eisner-Award winning The Wonderful Wizard of Oz, as well as Spider-Man, X-Men First Class, Hulk, Spider-Man Loves Mary Jane and many others. Nate's been a writer for PBS' relaunched The Electric Company. He edited/co-wrote Archaia's Jim Henson's The Storyteller and Immortals: Gods & Heroes. He co-writes Pigs for Image Comics, and writes Buddy Cops for Dark Horse. Nate lives in Colorado and needs more coffee. Chris Eliopoulos started working in comics two weeks after he began his internship at Marvel. He began freelancing production work until he was hired on staff and worked all the way up to senior letterer before going freelance. He's lettered more books than he can even remember for Marvel, DC, Image and many other publishers and along the way wrote and drew Franklin Richards: Son of a Genius and wrote Lockjaw & The Pet Avengers for Marvel. Eliopoulos lives in New Jersey with his wife and twin boys.
Free Media Mail shipping on U.S. orders over $50