How Did Davy Die? And Why Do We Care So Much?: Commemorative Edition (Elma Dill Russell Spencer Series in the West and Southwest #36) (Hardcover)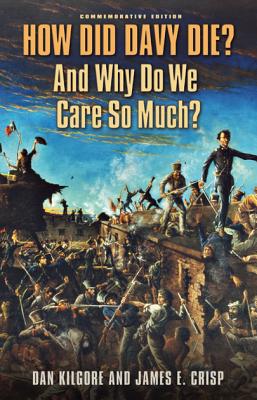 $18.95
Email or call for price.
Description
---
Just over thirty years ago, Dan Kilgore ignited a controversy with his presidential address to the Texas State Historical Association and its subsequent publication in book form, How Did Davy Die?
After the 1975 release of the first-ever English translation of eyewitness accounts by Mexican army officer José Enrique de la Peña, Kilgore had the audacity to state publicly that historical sources suggested Davy Crockett did not die on the ramparts of the Alamo, swinging the shattered remains of his rifle "Old Betsy." Rather, Kilgore asserted, Mexican forces took Crockett captive and then executed him on Santa Anna's order.

Soon after the publication of How Did Davy Die?, the London Daily Mail associated Kilgore with "the murder of a myth;" he became the subject of articles in Texas Monthly and the Wall Street Journal; and some who considered his historical argument an affront to a treasured American icon delivered personal insults and threats of violence.

Now, in this enlarged, commemorative edition, James E. Crisp, a professional historian and a participant in the debates over the De la Peña diary, reconsiders the heated disputation surrounding How Did Davy Die? and poses the intriguing follow-up question, ". . . And Why Do We Care So Much?" 

Crisp reviews the origins and subsequent impact of Kilgore's book, both on the historical hullabaloo and on the author. Along the way, he provides fascinating insights into methods of historical inquiry and the use—or non-use—of original source materials when seeking the truth of events that happened in past centuries. He further examines two aspects of the debate that Kilgore shied away from: the place and function of myth in culture, and the racial overtones of some of the responses to Kilgore's work.
About the Author
---
Dan Kilgore (1921–1995) was a Certified Public Accountant and acclaimed amateur historian residing in Corpus Christi. He served as president of the Texas State Historical Association from 1976 to 1977 and was elected a Fellow of the TSHA in 1991. James E. Crisp is associate professor and assistant head of the Department of History at North Carolina State University. He contributed previously unpublished material and wrote an introduction to the expanded edition of Carmen Perry's translation of the De la Peña diary, With Santa Anna in Texas, published by Texas A&M University Press in 1997.
Praise For…
---
"This fine work should be a needed addition for the Texas history collections of public and academic libraries. High school and college students alike will be using this book for their papers on Davy Crockett and the Alamo."--Jon P. Tritsch, Review of Texas Books
— Jon P. Tritsch