The Lemon Tree: An Arab, a Jew, and the Heart of the Middle East (Paperback)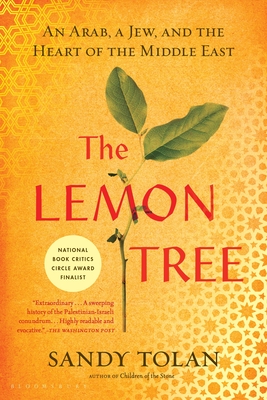 $18.99

Ships from warehouse to store in 3-6 business days
Description
---
A NATIONAL BOOK CRITICS CIRCLE AWARD FINALIST

"Extraordinary … A sweeping history of the Palestinian-Israeli conundrum … Highly readable and evocative." – The Washington Post

The tale of a simple act of faith between two young people, one Israeli and one Palestinian, that symbolizes the hope for peace in the Middle East – with an updated afterword by the author.


In 1967, Bashir Khairi, a twenty-five-year-old Palestinian, journeyed to Israel with the goal of seeing the beloved stone house with the lemon tree behind it that he and his family had fled nineteen years earlier. To his surprise, when he found the house he was greeted by Dalia Eshkenazi Landau, a nineteen-year-old Israeli college student, whose family left fled Europe for Israel following the Holocaust. On the stoop of their shared home, Dalia and Bashir began a rare friendship, forged in the aftermath of war and tested over the next half century in ways that neither could imagine on that summer day in 1967. Sandy Tolan brings the Israeli-Palestinian conflict down to its most human level, demonstrating that even amid the bleakest political realities there exist stories of hope and transformation.
About the Author
---
Sandy Tolan is the author of Me & Hank and Children of the Stone. As cofounder of Homelands Productions, Tolan has produced dozens of radio documentaries for NPR and PRI. He has also written for more than forty magazines and newspapers. His work has won numerous awards, and he was a 1993 Nieman Fellow at Harvard University and an I. F. Stone Fellow at the UC Berkeley Graduate School of Journalism. He is an associate professor at the Annenberg School for Communication and Journalism at the University of Southern California in Los Angeles.
Praise For…
---
"Through broad sweeps of narrative going back and forward in time, Tolan's sensitively told, eminently fair-minded narrative closes with a return to that lemon tree and its promise of reconciliation. Humane and literate--and rather daring in suggesting that the future of the Middle East need not be violent." - Starred Review, Kirkus

"Tolan weaves together dramatically different perceptions of the conflict and its context and explains how the lemon tree grew to become a powerful symbol of home." - NPR.org

"A moving story of both grief and hope." - BookPage

"Moving, well-crafted . . . readers will experience one of the world's most stubborn conflicts firsthand." - Starred Review, Publishers Weekly

"[Tolan] sensitively describes the tough friendship between Dalia Eshkenazi Landau, the daughter of Romanian Jewish immigrants who settled in Ramla, and Palestinian Bashir Khairi, who in 1967 knocked on her door to look at the house his family lost when it was forced to flee in 1948 . . . Tolan uses the beloved backyard lemon tree to drive home the shared humanity of the successive inhabitants of one home." - Los Angeles Review of Books
We will be closing at 8pm on Friday, 9/22 due to severe weather.
Free Media Mail shipping on U.S. orders over $75