Hope: The Anchor of Your Soul (Hope for the Heart) (Paperback)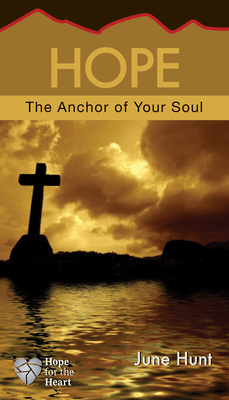 $5.99

Ships from warehouse to store in 3-6 business days
Description
---
When trouble knocks you off of your feet, hope also seems to be swept away and feelings of hopelessness and depression can set in. There are many causes of hopelessness, the most common is placing our confidence on things that can fail: money, health, beauty, relationships, and status; but our hope in God should not be based on other people or circumstances. God wants to work out his purposes for you and ultimately give you peace that passes all understanding. In June Hunt's
Hope,
learn what all of the unreliable anchors are, and how to place your hope in the only anchor that will never fail.
Packed with scriptures, charts, diagrams, easy-to-understand explanations, and practical applications,
Hope
will help you anchor yourself in God's rock-steady promises. In the section titled, "Steps to Solution'" June Hunt gives you practical advice on:
What Characterizes Misplaced Hope
The Symptoms of Hopelessness
What Distinguishes Faith from Hope
How to Understand God's Will in the Midst of Disappointment
How to Reach Out to Those Contemplating Suicide
Find an anchor for your soul and a sure hope through the guaranteed promises of God. Learn the assurances that come with Christian hope versus cultural hope. Discover the characteristics and benefits of a life harbored in the hope of God's unfailing Word.
Enjoy These Key Features of June Hunt's Hope Mini-book
Bible-based:
June Hunt has decades of biblical counseling condensed into this scripture-packed quick-guide that you can easily understand and flip through.
Highly visual:
Packed with charts, diagrams, headers, and bulleted outlines, the format makes it easy to absorb and digest information at a glance.
Practical:
Don't just understand the causes of a loss of hope; get the practical solutions you can put into action immediately.
Free Media Mail shipping on U.S. orders over $75