Walking with God through Pain and Suffering (Paperback)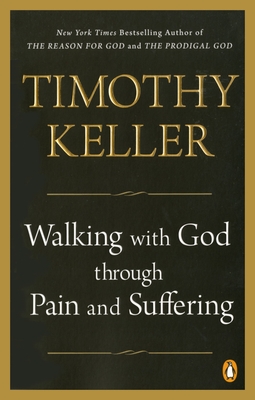 Description
---
From the New York Times bestselling author of The Prodigal Prophet Timothy Keller comes the definitive Christian book on why bad things happen and how we should respond to them.

The question of why God would allow pain and suffering in the world has vexed believers and nonbelievers for millennia. Timothy Keller, whose books have sold millions of copies to both religious and secular readers, takes on this enduring issue and shows that there is meaning and reason behind our pain and suffering, making a forceful and ground-breaking case that this essential part of the human experience can be overcome only by understanding our relationship with God. 

As the pastor of Redeemer Presbyterian Church in Manhattan, Timothy Keller is known for his unique insights into religion and culture. Keller's series of books has guided countless readers in their spiritual journeys. Walking with God through Pain and Suffering uses biblical wisdom and personal stories of overcoming adversity to bring a much-needed, fresh viewpoint to this important issue.
About the Author
---
TIMOTHY KELLER was born and raised in Pennsylvania and educated at Bucknell University, Gordon-Conwell Theological Seminary, and Westminster Theological Seminary. He was first a pastor in Hopewell, Virginia. In 1989 he started Redeemer Presbyterian Church in New York City with his wife, Kathy, and their three sons. Today, Redeemer has more than five thousand regular Sunday attendees and has helped to start nearly two hundred churches around the world. Also the author of Every Good Endeavor, The Meaning of Marriage, Jesus the King, Generous Justice, Counterfeit Gods, The Prodigal God, The Reason for God, and the Encounters with Jesus eSeries, Timothy Keller lives in New York City with his family.
Praise For…
---
Praise for Walking with God through Pain and Suffering

"It has something for everyone—something for the agnostic (Keller makes a strong argument that there are no true atheists); something for the philosopher (although he invites the wounded reader to skip that section); and something for the believer being beckoned into the inner sanctum of sharing in the fellowship of Christ's sufferings (a place no one naturally wants to go)." - The Gospel Coalition

"It is a resource that takes a multidimensional approach to suffering - tackling the internal and external realities - and takes us deep theologically and practically." - Vertical Living Ministries

"A luminous and ultimately hopeful examination of the many aspects of suffering." - Booklist

Praise for Timothy Keller and his other books

"Tim Keller's ministry in New York City is leading a generation of seekers and skeptics toward belief in God. I thank God for him." – Billy Graham

"Unlike most suburban megachurches, much of Redeemer is remarkably traditional. What is not traditional is Dr. Keller's skill in speaking the language of his urbane audience…Observing Dr. Keller's professorial pose on stage, it is easy to understand his appeal." – The New York Times

"Fifty years from now, if evangelical Christians are widely known for their love of cities, their commitment to mercy and justice, and their love of their neighbors, Tim Keller will be remembered as a pioneer of the new urban Christians." – Christianity Today 

"With intellectual, brimstone-free sermons that manage to cite Woody Allen alongside Matthew, Mark, Luke, and John, Keller draws some 5,000 young followers every Sunday. Church leaders see him as a model of how to evangelize urban centers across the country, and Keller has helped 'plant' 50 gospel-based Christian churches around New York plus another 50 from San Francisco to London." – New York Magazine

"This is the book I give to all my friends who are serious spiritual seekers or skeptics." – Rick Warren, author of The Purpose Driven Life, on The Reason for God

"Keller mines material from literary classics, philosophy, anthropology and a multitude of other disciplines to make an intellectually compelling case for God. Written for skeptics and the believers who love them, the book draws on the author's encounters as founding pastor of New York's booming Redeemer Presbyterian Church…[The Reason for God] should serve both as testimony to the author's encyclopedic learning and as a compelling overview of the current debate on faith for those who doubt and for those who want to reevaluate what they believe, and why." – Publishers Weekly on The Reason for God

"World has briefly reviewed about 200 books over the past year. Many stand out, but one in particular is likely to change many lives and ways of thinking. World's Book of the Year is Tim Keller's The Reason for God. " – Marvin Olasky on The Reason for God

"It's a great resource to equip you to speak with your secular friends; to show them why the Christian understanding of marriage is not only a tremendous blessing, it's the only one that works." – ChristianPost.com on The Meaning of Marriage

"The Meaning of Marriage is incredibly rich with wisdom and insight that will leave the reader, whether single or married, feeling uplifted. While the book is filled with expertly selected biblical verses, nonreligious readers willing to 'try on' these observations may find answers not only to the meaning of marriage but to that even bigger question—the meaning of life itself." – The Washington Times on The Meaning of Marriage

"Theologically rich and philosophically informed, yet accessible and filled with practical wisdom." – Comment Magazine on Every Good Endeavor

"This book is for us all and through its reading it can change and reshape your entire outlook on your life." – Sarah Macintosh on Every Good Endeavor
Free Media Mail shipping on U.S. orders over $50