The Good Lord Bird: A Novel (Paperback)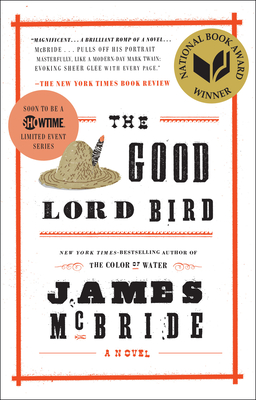 Staff Reviews
---
Imagine a comedic novel about slavery.  I couldn't, until I read James McBride's The Good Lord Bird.  He pulled it off brilliantly--a hugely entertaining romp about a young boy (the narrator) who poses as a girl after being freed by the notorious abolitionist John Brown and joins Brown's mission to do away with that "evil institution."  I've never read anything like it.  The New York Timesaddresses the issue:  "...it is officially O.K. to be boldly irreverent about not just the sacrosanct but also the catastrophic. Does this mark the triumph of irony, to the point where it has dulled our emotional response to history?  Or does it denote progress: we've come so far from historical horrors that we freely jest about them? Either way, it's a risky endeavor; maladroit jokes about slavery aren't just bad, they're hazardous. It's a great relief, then, that McBride--with the same flair for historical mining, musicality of voice and outsize characterization that made his memoir, The Color of Water, an instant classic--pulls off his portrait masterfully, like a modern-day Mark Twain: evoking sheer glee with every page."  I promise you will like this book. 
— Nancy
Description
---
Now a Showtime limited series starring Ethan Hawke and Daveed Diggs

Winner of the National Book Award for Fiction

From the bestselling author of Deacon King Kong (an Oprah Book Club pick) and The Color of Water comes the story of a young boy born a slave who joins John Brown's antislavery crusade—and who must pass as a girl to survive.

Henry Shackleford is a young slave living in the Kansas Territory in 1856--a battleground between anti- and pro-slavery forces--when legendary abolitionist John Brown arrives. When an argument between Brown and Henry's master turns violent, Henry is forced to leave town--along with Brown, who believes Henry to be a girl and his good luck charm.

Over the ensuing months, Henry, whom Brown nicknames Little Onion, conceals his true identity to stay alive. Eventually Brown sweeps him into the historic raid on Harpers Ferry in 1859--one of the great catalysts for the Civil War. An absorbing mixture of history and imagination, and told with McBride's meticulous eye for detail and character, The Good Lord Bird is both a rousing adventure and a moving exploration of identity and survival.
About the Author
---
Awarded a National Humanities Medal by President Obama, James McBride is an accomplished musician and author of the National Book Award-winning The Good Lord Bird, the #1 bestselling American classic The Color of Water, and the bestsellers Song Yet Sung and Miracle at St. Anna, which was turned into a film by Spike Lee. He is also the author of Kill 'Em and Leave, a James Brown biography. McBride is a Distinguished Writer in Residence at New York University.
Praise For…
---
Winner of the National Book Award for Fiction

Winner of the Morning News Tournament of Books

"A brilliant romp of a novel…McBride…pulls off his portrait masterfully, like a modern-day Mark Twain." —The New York Times Book Review

"You may know the story of John Brown's unsuccessful raid on Harpers Ferry, but author James McBride's retelling of the events leading up to it is so imaginative, you'll race to the finish."—NPR

"A boisterous, highly entertaining, altogether original novel ...There is something deeply humane in this [story], something akin to the work of Homer or Mark Twain." —The Washington Post 

"Wildly entertaining… a rollicking saga about one of America's earliest abolitionists." —People
 
"McBride delivers another tour de force...A fascinating mix of history and mystery."—Essence

"A story that's difficult to put down."—Ebony

"Outrageously entertaining… rockets toward its inevitable and, yes, knee-slapping conclusion. Never has mayhem been this much of a humdinger." —USA Today

"An impressively deep comedy."—Salon "Both breezy and sharp, a rare combination outside of Twain. You should absolutely read it." —New York Magazine

"Superbly written....McBride...transcends history and makes it come alive."—The Chicago Tribune

"Absorbing and darkly funny."—San Francisco Chronicle

"An irrepressibly fun read."—The Seattle Times

"The Good Lord Bird is just so brilliant. It had everything I want in a novel and left me feeling both transported and transformed."—John Green 

"[McBride's] effervescent young narrator is pitch-perfect and wholly original."—Geraldine Brooks