Birds of the Southeast: Your Way to Easily Identify Backyard Birds (Adventure Quick Guides) (Spiral)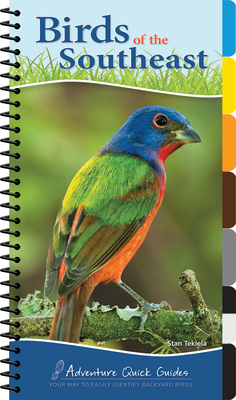 Description
---
Your Quick Guide to Birds of the Southeast
At the cabin, in the garden, or on a hike, keep this tabbed booklet close at hand. Based on Stan Tekiela's best-selling bird field guides and featuring only Southeast birds, the booklet is organized by color for quick and easy identification. Narrow your choices by color, and view just a few birds at a time. The pocket-sized format is much easier to use than laminated foldouts, and the tear-resistant pages help to make the book durable in the field.
About the Author
---
Naturalist, wildlife photographer, and writer Stan Tekiela is the author of more than 175 field guides, nature books, children's books, wildlife audio CDs, puzzles, and playing cards, presenting many species of birds, mammals, reptiles, amphibians, trees, wildflowers, and cacti in the United States. With a Bachelor of Science degree in Natural History from the University of Minnesota and as an active professional naturalist for more than 25 years, Stan studies and photographs wildlife throughout the United States and Canada. He has received various national and regional awards for his books and photographs. Also a well-known columnist and radio personality, his syndicated column appears in more than 25 newspapers, and his wildlife programs are broadcast on a number of Midwest radio stations. Stan can be followed on Facebook and Twitter.
Free Media Mail shipping on U.S. orders over $50
Christmas ordering guidelines
"Ships from warehouse" items to be shipped: Order by Monday, 12/5
"Ships from warehouse" items to be picked-up in store: Order by Monday, 12/12
On hand items: We'll pull items in order of orders received, so keep them coming!