Free the Animals: The Amazing, True Story of the Animal Liberation Front in North America (30th Anniversary Edition) (Paperback)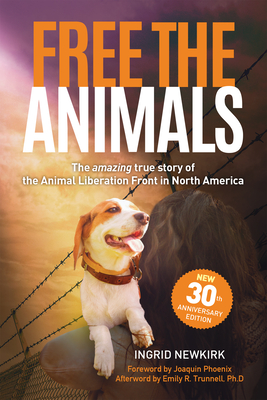 $22.00

Ships from warehouse to store in 3-6 business days
Description
---
Told as a thriller, Free the Animals is a classic work of radical popular storytelling. A classic in the mold of Edward Abbey's The Monkey Wrench Gang.
First published by Noble Press in 1992, then reprinted and revised by Lantern in 2005 and 2012, this thirtieth anniversary edition is revised, expanded, newly typeset, updated, and has a new foreword, by Academy Award–winning actor Joaquin Phoenix, and an afterword, by Dr. Emily Trunnell, who describes whether and how the experiments you read about in this book have changed (or have not) over the last three decades.
Free the Animals is the story of Valerie, a twenty-three-year-old police officer in Montgomery County, Maryland, whose world is turned upside down when she learns about the abuses of animals in laboratories. The book describes how this law-abiding woman comes to challenge the system by taking direct action and examines why ordinary people are moved to do extraordinary things on behalf of animals. Full of fascinating characters, vivid descriptions, and thrilling incidents, and rich with details on what it means to live life on the run from the law (and agents provocateurs), Free the Animals is not only a classic for our times but a compellingly relevant examination of our cruelty to other animals.
About the Author
---
Ingrid E. Newkirk is cofounder and president of PETA (People for the Ethical Treatment of Animals), the largest animal rights organization in the world. Her campaigns to save animals have been featured in The Washington Post and other national newspapers. She has appeared on The Today Show, The Oprah Winfrey Show, Nightline, and 20/20, among others, and has spoken internationally on animal protection, from the steps of the Canadian Parliament to the streets of New Delhi, India. Her website is peta.org.
Free Media Mail shipping on U.S. orders over $75
"Ships from warehouse" books to be shipped: order by Wednesday, 12/6
"Ships from warehouse" books for pickup: order by Tuesday, 12/12