A Is for All the Things You Are: A Joyful ABC Book (Board book)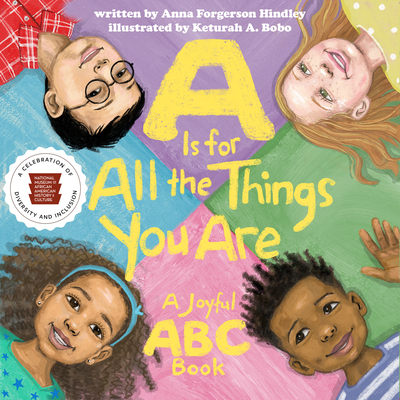 $9.95

Ships from warehouse to store in 3-6 business days
Description
---
An ABC book celebrating and inspiring diversity

A Is for All the Things You Are: A Joyful ABC Book is an alphabet board book developed by the National Museum of African American History and Culture that celebrates what makes us unique as individuals and connects us as humans. This lively and colorful book introduces young readers, from infants to age seven, to twenty-six key traits they can explore and cultivate as they grow. Each letter offers a description of the trait, a question inviting the reader to examine how he or she experiences it in daily life, and lively illustrations. The book supports understanding and development of each child's healthy racial identity, the joy of human diversity and inclusion, a sense of justice, and children's capacity to act for their own and others' fair treatment.
About the Author
---
SMITHSONIAN NATIONAL MUSEUM OF AFRICAN AMERICAN HISTORY AND CULTURE'S mission is to provide for the collection, study, and establishment of programs and exhibitions relating to African American life, art, history, and culture. ANNA FORGERSON HINDLEY is the supervisory coordinator of the Early Childhood Education Initiative at the National Museum of African American History and Culture. Her work focuses on supporting positive identity development for all young children. KETURAH A. BOBO is a BFA graduate from the Columbus College of Art and Design known for her vibrant illustrations. Her first picture book, I Am Enough by Grace Byers, was a New York Times bestseller.
Praise For…
---
"This board book is a celebration–both of what makes us unique as individuals and what connects us as humans. Each page invites interaction, as it describes and illustrates a trait, then invites the reader to think about–and talk about–how he or she experiences that attribute.  The illustrations are diverse and inclusive; children of all colors, cultures, and abilities and are illustrated with respect, delight, and love."  Lit for Kids

"This alphabet board book was developed by the National Museum of African American History and Culture and it celebrates all that makes us unique as individuals and connects us as humans."
Scary Mommy (15 Books You Need in Your House list)

"This lively and colorful book introduces young readers, from infants to age seven, to twenty-six key traits they can explore and cultivate as they grow."  Keep Toddlers Busy

"If you only add one multi-cultural book to your child's collection, this is the one to buy! 26 traits, one for each letter of the alphabet, are examined and explored in this toddler book about inclusivity. This book, developed by the National Museum of African American History, fosters the concept that we are all connected and deserve fair treatment."  The Lollipop Book Club



Free Media Mail shipping on U.S. orders over $50