The Prairie that Nature Built (Paperback)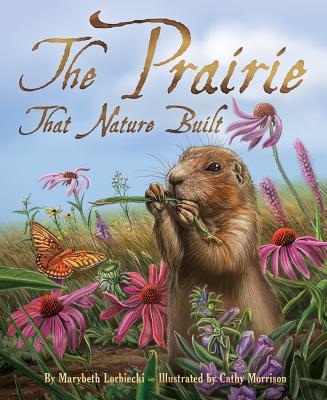 Description
---
Learn about the plants and critters that depend upon one of the most endangered ecological systems in the world: the prairie! A beautiful picture book perfect for any young nature enthusiast, classroom, parent, or grandparent, The Prairie That Nature Built is written in cumulative verse and includes educational backmatter.
Sing-song repetition reinforces the richness of dynamic prairie life, and lifelike illustrations will be sure to inspire a love and awe of nature in any young reader!
These are the critters that worm and squirm
Alive in the dirt so dark and thick
Under the prairie that nature built.
This is the prairie that grows so free.
And this is the kid that loves it—me!
Backmatter includes:
A Prairie Primer: detailed information on Prairies, including where they can be found in different countries and how they are crucial for the health of the planet
Learn about Prairie Animals and Plants: information on who lives on Prairies—burrowers like prairie dogs, scavengers like dung beetles, grazers like bison and antelope, and more!
Activities and Resources: fun activities like a search-and-find for plants and animals in the book, and resources on Prairie organizations and additional books about prairies
About the Author
---
Marybeth Lorbiecki grew up in St. Cloud, Minnesota, near a prairie, before she knew it was called a prairie. Instead it was simply her favorite place for exploring and hiding amid the tall grasses. She would always be spotted by meadowlarks, who saluted her with song. That prairie was built over with homes, and she no longer found her friends the larks there any more. When Marybeth moved to Hudson, Wisconsin, she became part of a group that taught the community about the amazing prairie that nature built. She brought her daughters and son to wander through the prairie grasses. Together they helped preserve prairies nearby so the meadowlarks would have a place to nest and sing. She's written more than twenty-five books for kids, many of them about the places, plants, and animals she loves, including the prairie dog!
Cathy Morrison is an award-winning illustrator who lives in Colorado, within view of both the Great Plains and the Rocky Mountains. She watches the plants, the animals, and rain—all close up and personal. She began her career in animation and graphic design, but discovered her passion for children's book illustration while raising her two children. After several years illustrating with traditional media, she now works digitally, which helps the publisher adapt the art into interactive book apps.
Free Media Mail shipping on U.S. orders over $50
Christmas ordering guidelines
"Ships from warehouse" items to be shipped: Order by Monday, 12/5
"Ships from warehouse" items to be picked-up in store: Order by Monday, 12/12
On hand items: We'll pull items in order of orders received, so keep them coming!