Falcon Wild (Hardcover)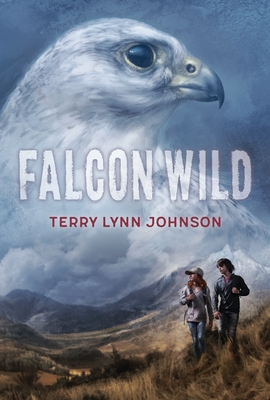 Description
---
An action-packed, contemporary novel about surviving in the wilderness.

Thirteen-year-old Karma is desperate to become a certified falconer. At her dad's bird education center, she helps give demonstrations to guests and can fly the birds. But when her favorite rescued falcon, Stark, hurts Karma, her parents insist that they return the bird to its previous owner--in Canada. On the way to bring Stark back, a car accident in the middle of nowhere leaves Karma's dad trapped, and it's up to Karma to find a way to rescue him and her younger brother. When Karma loses her way trying to get help, she crosses paths with Cooper, a troubled teenaged boy. Lost for three days, the two figure out how to survive, and Karma teaches Stark to hunt like an actual bird of prey. Karma may be closer than she thinks to becoming a real falconer and having a real friend.
About the Author
---
Terry Lynn Johnson is the author of middle grade adventures based on her experiences in the wilds of northern Ontario, Canada, including Ice Dogs, Sled Dog School, and Survivor Diaries, a series for reluctant readers (HMH). She is an award-winning member of the Outdoor Writers of Canada and currently works as a Conservation Officer with the Ontario Ministry of Natural Resources and Forestry.
Praise For…
---
Karma, a 13-year old falconer-to-be, has to give her beloved bird, Stark, back to Stark's original owner. As she and her father and brother head out into the back-country of Montana to return Stark, things suddenly start to go wrong when their van crashes. Karma finds herself in the middle of nowhere searching for help for her family. This book is an adventurous coming-of-age tale with a  rich and beautiful natural setting. The imagery of the woods and country will make readers feel as if they are journeying alongside the protagonist. The details about the birds and what it takes to survive in the mountains are enlightening. VERDICT A strong choice for middle grade readers who appreciate nature, animals, and survival stories; an accessible read that could also spark discussions within a classroom setting.
--School Library Journal

In Terry Lynn Johnson's Falcon Wild, 13-year-old Karma is lost in the Montana wilderness with her falcon, Stark, and a runaway boy, looking for help for her dad and brother who have been in an accident. The accident happened while the family was on their way to return Stark, a rescued bird, to his original owner in Canada, even though Karma doesn't want to part with him. Lost in the wilderness, her bond with the bird only grows stronger as they face wild animals, injury, and severe weather together.
—New Moon Girls

Lost in the Montana wilderness, two white children and a tame gyrfalcon learn to trust one another. Thirteen-year-old home-schooled Karma lives in Montana on her family's bird-of-prey education center, where she helps her white father train raptors. Karma longs to have friends but worries she talks too much about hawks and falcons—her favorite is a rescued white gyrfalcon named Stark. When Stark's owner reclaims her, Karma reluctantly drives with her father and younger brother to deliver her. Shortly after letting off an unfriendly teenage-boy hitichhiker named Cooper, their van blows a tire and crashes. With her father and brother injured and Stark escaped, Karma sets out to find help. After she falls into a crevice, she is rescued by the mysterious Cooper, who spotted her thanks to the white bird circling overhead. Overjoyed to find Stark, Karma continues her search for help. As she and Cooper hike into the wilderness, they endure a slew of unfortunate events that would make Lemony Snicket proud (grizzly, near-drowning, falling, infection, thunderstorm/hail), and Cooper gradually reveals his past. Karma's simple present-tense, first-person narration is inconsistent in her worry for her father and brother, and interesting information on falconry and raptors is imparted in an academic style that lacks smooth integration into the story. The components are there; the cohesion is not.
—Kirkus Reviews

This is an in-depth survival story with deep characters and a believable but not overly mature plot—a perfect fit for your middle grade readers who love adventurous drama. The plot centers on Karma, a not-so-typical 13-year-old girl who is lost in the wilderness of Montana with Cooper, a runaway boy she just met, and her trained falcon, Stark. After a car accident leaves Karma, her brother, and her father stranded on a backcountry road, Karma goes to find help but winds up lost in the wilderness, fighting for survival. Karma is a homeschooled falcon trainer, yet she still has the normal anxieties and issues of any teenage girl. Overall, the characters, dialogue, and plot of this book are excellent and truly suspenseful. However because of the focus on falconry, I fear it may not be a runaway hit with readers who are looking for something more relatable to their lives. Overall I would recommend adding this book to your collection, though it may take some selling to get students to read it.
—School Library Connection
Free Media Mail shipping on U.S. orders over $75