A Book of Pagan Family Prayers and Rituals (Paperback)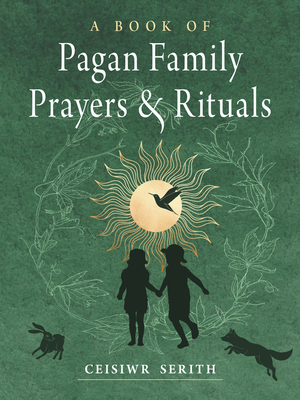 Description
---
A hands-on resource for pagan parents and pagan families with hundreds of rituals, prayers, blessings, and meditations for every occasion along with suggestions for creating a sacred home.
A Book of Pagan Family Prayers and Rituals
provides a reference guide for pagans who wish to celebrate their religion as living, family tradition steeped in pagan ritual and pagan prayer.
The book contains:
Ritual guidelines for weddings, births, birthdays, seasonal celebrations, lunar phases, coming of age, divorce and death.
Suggestions for the creation of the sacred home (including blessings and household shrines).
Children's activities including meditations, mask and rattle making, drumming, and storytelling.
Prayers for throughout the day.
Tips for teaching children about paganism.
References and resources for further information in the appendices.
This book was first published in 1995 under the
title The Pagan Family: Handing the Old Ways Down
. This new edition is substantially revised and includes new, previously unpublished material.
About the Author
---
Ceisiwr Serith (David Fickett-Wilbar) is a writer and teacher in the Pagan community. His interest in prayers and rituals grew naturally as a result of working in the Wiccan and Druidic traditions, as well as writing books such as A Book of Pagan Prayer and Deep Ancestors: Practicing the Religion of the Proto-Indo-Europeans. He is a member of Ár nDraíocht Féin, a Druid fellowship, and is priest and liturgist for Nemos Ognios grove in Durham, NH. He has been published in the Journal of Indo-European Studies and Proceedings of the Harvard Celtic Colloquium.
Praise For…
---
"A Book of Pagan Family Prayers and Rituals by Ceisiwr Serith is an amazing reference for all those interested in building a strong family practice. Serith takes the reader on a journey of interpreting and walking the family pagan path, giving pointers for adapting rituals for modern times, as well as providing many insights into areas of pagan practice in bitesize pieces. I especially appreciated that the author made a point of showing how these rituals could be adapted to any gender, cultural background, and style of pagan practice. So many parents are looking for a good book on the path of pagan parenting. If any of these parents were to ask me, from now on I'll be recommending A Book of Pagan Family Prayers and Rituals."
— Temperance Alden, author of The Year of the Witch

"Allow Ceisiwr Serith's A Book of Pagan Family Prayers and Rituals to be your guide as you and your family journey together down the spiral path. Whether looking for ways to celebrate the ever turning wheel-of-the-year, creating simple yet powerful family rituals, or just looking for ways to add a touch Pagan spirituality to your established routine, this book provides an easy framework for your family's practice."
— Monica Crosson, author of Wild Magical Soul and The Magickal Family

"The modern Pagan movement is no longer just a handful of seekers here and a circle of beginners there. There are now strong Pagan communities and temples, as well as a growing number of independent parents outside these groups raising their children in Pagan traditions. Those families are in need of resources to help them navigate holy days, rites of passage, and the myriad events that constitute the life of a healthy family.  This book is that—and more. It is well-written and charming, full of good ideas and helpful hints. If you are a Pagan family or on your way to becoming one, put this book to on the shelf with your other child-rearing resources and use it until it is dog-eared. It has everything you need guide you into and through the wonderful world of Pagan parenting."
— H. Byron Ballard, witch, priestess, author, Seasons of a Magical Life

"Here, Ceisiwr Serith provides a handbook for celebrating the ordinary but deeply meaningful daily, seasonal, and occasional rituals that mark our lives. As with his classic A Book of Pagan Prayer, this book provides dozens of prayers that are rooted in the beliefs and practices of our ancestors and are still simple enough for children. This is a wonderful resource for any Pagan, but especially those raising children in a world that all too often misrepresents our ways. Highly recommended."
— John Beckett, author of The Path of Paganism
Free Media Mail shipping on U.S. orders over $50