Fieldwork: A Forager's Memoir (Hardcover)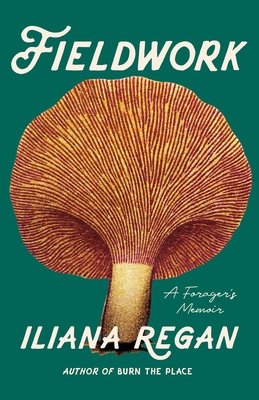 Description
---
From National Book Award-nominee Iliana Regan, a new memoir of her life and heritage as a forager, spanning her ancestry in Eastern Europe, her childhood in rural Indiana, and her new life set in the remote forests of Michigan's Upper Peninsula. Fieldwork explores how Regan's complex gender identity informs her acclaimed work as a chef and her profound experience of the natural world.
Not long after Iliana Regan's celebrated debut, Burn the Place, became the first food-related title in four decades to become a National Book Award nominee in 2019, her career as a Michelin star-winning chef took a sharp turn north. Long based in Chicago, she and her new wife, Anna, decided to create a culinary destination, the Milkweed Inn, located in Michigan's remote Upper Peninsula, where much of the food served to their guests would be foraged by Regan herself in the surrounding forest and nearby river. Part fresh challenge, part escape, Regan's move to the forest was also a return to her rural roots, in an effort to deepen the intimate connection to nature and the land that she'd long expressed as a chef, but experienced most intensely growing up.
On her family's farm in rural Indiana, Regan was the beloved youngest in a family with three much older sisters. From a very early age, her relationship with her mother and father was shaped by her childhood identification as a boy. Her father treated her like the son he never had, and together they foraged for mushrooms, berries, herbs, and other wild food in the surrounding countryside--especially her grandfather's nearby farm, where they also fished in its pond and young Iliana explored the accumulated family treasures stored in its dusty barn. Her father would share stories of his own grandmother, Busia, who'd helped run a family inn while growing up in eastern Europe, from which she imported her own wild legends of her native forests, before settling in Gary, Indiana, and opening Jennie's Caf , a restaurant that fed generations of local steelworkers. He also shared with Iliana a steady supply of sharp knives and--as she got older--guns.
Iliana's mother had family stories as well--not only of her own years marrying young, raising headstrong girls, and cooking at Jennie's, but also of her father, Wayne, who spent much of his boyhood hunting with the men of his family in the frozen reaches of rural Canada. The stories from this side of Regan's family are darker, riven with alcoholism and domestic strife too often expressed in the harm, physical and otherwise, perpetrated by men--harm men do to women and families, and harm men do to the entire landscapes they occupy.
As Regan explores the ancient landscape of Michigan's boreal forest, her stories of the land, its creatures, and its dazzling profusion of plant and vegetable life are interspersed with her and Anna's efforts to make a home and a business of an inn that's suddenly, as of their first full season there in 2020, empty of guests due to the COVID-19 pandemic. She discovers where the wild blueberry bushes bear tiny fruit, where to gather wood sorrel, and where and when the land's different mushroom species appear--even as surrounding parcels of land are suddenly and violently decimated by logging crews that obliterate plant life and drive away the area's birds. Along the way she struggles not only with the threat of COVID, but also with her personal and familial legacies of addiction, violence, fear, and obsession--all while she tries to conceive a child that she and her immune-compromised wife hope to raise in their new home.
With Burn the Place, Regan announced herself as a writer whose extravagant, unconventional talents matched her abilities as a lauded chef. In Fieldwork, she digs even deeper to express the meaning and beauty we seek in the landscapes, and stories, that reveal the forces which inform, shape, and nurture our lives.
About the Author
---
Iliana Regan is the Michelin-star chef and prior owner of Elizabeth restaurant, which she turned over to her employees in 2020 in order to run the Milkweed Inn bed and breakfast in Michigan's Upper Peninsula and experience a quieter life. In 2019 her debut memoir, Burn the Place, was longlisted for the National Book Award, the first time a food writer was listed since Julia Child won in the year Regan was born, 40 years ago. In addition to working as the chef and owner of Milkweed Inn, she recently earned a Masters of Fine Arts in Writing from the School of the Art Institute of Chicago.
Free Media Mail shipping on U.S. orders over $75
"Ships from warehouse" books to be shipped: order by Wednesday, 12/6
"Ships from warehouse" books for pickup: order by Tuesday, 12/12