Early Sunday Morning (Denene Millner Books) (Hardcover)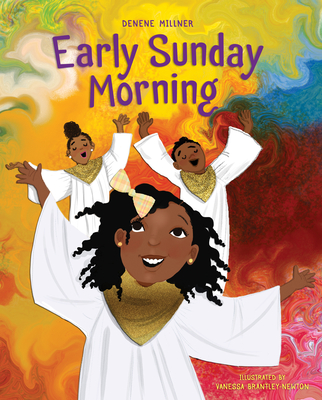 Description
---
Early Sunday Morning is the first offering from Denene Millner Books, the new children's line published under Agate's Bolden imprint in partnership with Denene Millner, the noted parenting authority, editor, and New York Times bestselling author. Love and family. These are the things that a little girl finds most special about Sunday mornings. Early Sunday Morning follows June, Mommy, Daddy, and brother Troy through their weekend routine as June prepares for a special performance leading the children's choir at church on Sunday morning. Readers spend the weekend with June as she collects helpful pieces of advice on how to be less nervous about her big solo. Along the way, she visits the barbershop with Mommy and Troy, gets her hair done by Mommy, receives a special dress from her aunt, and shares her family ritual of getting ready for Sunday morning service. As her special moment approaches, June leans on the support of her whole family, as well as advice from her father, to conquer her fear of singing in front of the congregation. Early Sunday Morning is a heartwarming celebration of the special time a young girl and her family share together as she learns how to lift her mighty voice.

About the Author
---
Denene Millner is a New York Times best-selling author, award-winning journalist, and contributing editor at Agate Publishing where she directs the Denene Millner Books imprint. She has penned 25 books, including Act Like a Lady, Think Like a Man, co-written with Steve Harvey; an upcoming memoir with actress Taraji P. Henson; and The Vow, the novel on which the hit Lifetime original movie, "With This Ring" was based. She also is the founder of MyBrownBaby.com, a critically acclaimed blog that examines the intersection of parenting and race. Millner frequently contributes to Essence, Ebony, and Redbook, and has appeared on the Today Show, The Meredith Vieira Show, HLN, MSNBC, and NPR. She lives in Atlanta with her husband and two daughters. Vanessa Brantley-Newton is a self-taught illustrator whose passion for children's books began when she came across The Snowy Day by Ezra Jacks Keats as a child in the 1960s. The Snowy Day marked one of the first representations of a black children in picture books, and seeing a character who looked like her and lived in a neighborhood like her own was a turning point in Vanessa's life. She hopes to inspire young readers as Keats did for her. Vanessa has illustrated more than 30 books, and is the author and illustrator of Let Freedom Sing and Don't Let Auntie Mabel Bless the Table. Vanessa lives in Charlotte, North Carolina, with her husband of 22 years and their daughter Zoe and a very rambunctious cat named Stripes.
Free Media Mail shipping on U.S. orders over $50
Christmas ordering guidelines
Ships from warehouse items to be shipped: Order by Monday, 12/5
Ships from warehouse items to be picked-up in store: Order by Monday, 12/16
On hand items: We'll pull items in order of orders received, so keep them coming!