New View Over Atlantis: The Essential Guide to Megalithic Science, Earth Mysteries, and Sacred Geometry (Paperback)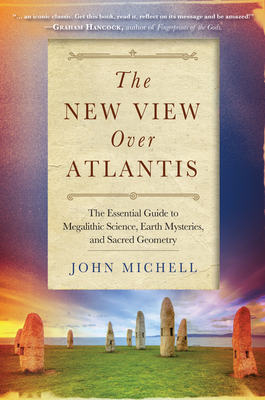 $19.95
Email or call for price.
Description
---
John Michell's highly controversial The View Over Atlantis was first published in 1969. This unrivaled introduction to megalithic science, earth mysteries, and sacred geometry was expanded and updated in The New View Over Atlantis in 1983. Now available in a fresh new package this classic, seminal work offers an impressive body of evidence and arguments to support the theory that at one time, many thousands of years ago, there was a worldwide, highly sophisticated civilization that Plato referred to as Atlantis. Michell, one of the premier esoteric writers of the 20th century, reveals that ancient stone monuments and earthworks found around the globe are not randomly strewn, but are a well-executed system of psychic centers connected worldwide and used by the people of Atlantis. Michell also demonstrates the significant modern discovery of "leys," a mysterious network of straight lines that link the ancient places around the world. He carefully and thoroughly documents the research that points to these ancient sites as places of high magic.
About the Author
---
John Michell (1933-2009) was an English writer who wrote more than 40 boks exploring sacred geometry, earth mysteries, geomancy, gematria, archaeoastronomy, metrology, and sacred sites.
Praise For…
---
"One of the great seminal books of our generation--a book which will be argued about for decades to come." -Colin Wilson
— Reviews

"John Michell's The New View Over Atlantis is an iconic classic. It changed the way I looked at the human past and the way I look at our collective future and I am delighted it is being republished in time to influence the awakening to mystery of a whole new generation. Get this book, read it, reflect on its message and be amazed"! ?Graham Hancock, author of Fingerprints of the Gods.
— Reviews

"Put ley lines on the map, re-enchanted the British landscape and made Glastonbury the capital of the New Age." -Bob Rickard, founder of The Fortean Times
— Reviews

"almost the founding document of the earth mysteries movement." -Ronald Hutton
— Reviews

"...probably the most influential book in the history of the hippy/underground movement and one that had far-reaching effects on the study of strange phenomena..." -Wikipedia
— Reviews

"almost the founding document of the earth mysteries movement." -Ronald Hutton
— Reviews