FREE Media Mail shipping on eligible items! We are open for browsing by appointment from 10am-7pm M-S and 10am-6pm Sundays. Email books@quailridgebooks.com for a reservation. Phones may not be answered due to high volume of calls.
Lions of the West (Hardcover)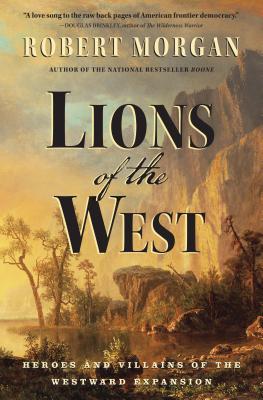 Description
---
From Thomas Jefferson's birth in 1743 to the California Gold Rush in 1849, America's westward expansion comes to life in the hands of a writer fascinated by the way individual lives link up, illuminate one another, and collectively impact history.

Jefferson, a naturalist and visionary, dreamed that the United States would stretch across the North American continent, from ocean to ocean. The account of how that dream became reality unfolds in the stories of Jefferson and nine other Americans whose adventurous spirits and lust for land pushed the westward boundaries: Andrew Jackson, John "Johnny Appleseed" Chapman, David Crockett, Sam Houston, James K. Polk, Winfield Scott, Kit Carson, Nicholas Trist, and John Quincy Adams.

Their stories—and those of the nameless thousands who risked their lives to settle on the frontier, displacing thou- sands of Native Americans—form an extraordinary chapter in American history that led directly to the cataclysm of the Civil War. Filled with illustrations, portraits, maps, battle plans, notes, and time lines, Lions of the West is a richly authoritative biography of America—its ideals, its promise, its romance, and its destiny.
About the Author
---
Robert Morgan is the bestselling author of numerous works of fiction—including the Oprah Book Club selection Gap Creek—and non-fiction, and is also an established poet with fourteen collections to his credit. Born in Hendersonville, NC, he teaches at Cornell University in Ithaca, NY, where he is Kappa Alpha Professor of English.
Praise For…
---
"Robert Morgan's latest work is a tour de force of historical concision, combining prodigious research and adroit synthesis. The biographer of Daniel Boone and prize-winning novelist and poet sets his sights on creating "a living sense of the westward expansion." –The Boston Globe

"In his fascinating, magnificent Lions of the West, Morgan ... writes with an enviable clarity that makes personalities, issues and events come alive on the page... This authoritative and enlightening book engages the reader from the first page and holds our attention until the last." –BookPage

"Morgan's accounts of these key players make for an intriguing journey westward... Morgan has given us a stimulating and engaging account of how it all came about." –Minneapolis Star Tribune

"Morgan begins his work with Jefferson — a lover of nature, patron of explorers and dreamer of expansion. Several pages are dedicated to Jefferson's work, Notes on the State of Virginia. "His book is, among other things, a celebration and homage to his birth country," Morgan writes. Though he lacks Jefferson's poetry, the same might be said about Morgan's latest work." –Newark Star-Ledger

"Highly entertaining... A highly readable, often enjoyable, perspective on some of the biggest American luminaries participating, either actively or philosophically, in the settlement of the American West." –Roanoke Times

"Lions of the West is a compelling and insightful history that reads like the talk of a learned companion...Morgan entertains with adventures and details, both high-minded and handy. His largest achievement is something of special note here. In his fiction, poetry, and history, Morgan represents a Scots-Irish/British tradition, and fuses, for all of America, romantic and pragmatic traditions." –Asheville Citizen-Times

"Fans of David McCullough's big best sellers should eat this one up... Morgan knows that the root of history is story, and he has plenty to tell. He gives us wonderful moments: Sam Houston, in Cherokee costume, encountering Alexis de Tocqueville on a steamboat, or Abigail Adams meeting Alexander McGillivray, the half-caste, Charleston-educated chieftain of the Upper Creeks and judging him 'much of a Gentleman.' No novel can do better." –Wilmington Star News

"Robert Morgan should be declared a national treasure, and his latest work, Lions of the West, is bound to become a classic in the study of American westward expansion." –Charlotte News & Observer

"[Morgan's] detailed storytelling is rather poetically fascinating. He reminds us that all figures in history were more than what they accomplished -- that many led the lives of everyday men...I now see the men behind the America I've always known." –Iowa City Press-Citizen

"This valuable addition to the historical record is by a gifted historian and novelist. It fills the gap in a most interesting period of American history. It is a 'can't-put-it-down' kind of history book."
–Southern Pines Pilot

"History as it should be told: through colorful biographical sketches, Morgan presents the unvarnished story of the annexation and settling of the American West." –Shelf Awareness

"Morgan has made the Old West his preserve…[his] sympathetic and thoughtful essay on Kit Carson ruminates on the moral challenges raised by westward expansion. Readers interested in the Old West will be rewarded." –Publishers Weekly

"Morgan has done a good job of cherry-picking the best and the brightest of the bunch… a digestible introduction to American expansion, Manifest Destiny, and the larger-than-life men who led the inexorable charge westward." –Booklist

"A vivid, well-conceived look at western expansion in the old narrative-driven school of Bernard DeVoto and Wallace Stegner." –Kirkus Reviews
"A tour de force of historical concision, combining prodigious research and adroit synthesis."
—The Boston Globe
"Sometimes, superb research can yield memorable chronicling of lives in an economical manner, rather than in a detailed cradle to grave account. That is the case in Morgan's compulsively readable group history."
—The Seattle Times
"Morgan's marriage of history and well-wrought prose is as engrossing as it is edifying."
—The Louisville Courier-Journal
"Morgan's accounts of these key players make for an intriguing journey westward . . . A stimulating and engaging account."
—Minneapolis Star Tribune
"Lions of the West is history at its best."
—The Charleston Post and Courier
"Lions of the West is history at its best."
—The Charleston Post and Courier