We are offering FREE media mail shipping on books. We are open from 10am-7pm Monday through Saturday and 10am-6pm Sunday. Phones may not be answered due to a high volume of calls.
Life After Life: A Novel (Hardcover)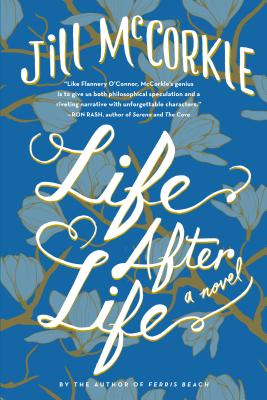 Description
---
Award-winning author Jill McCorkle takes us on a splendid journey through time and memory in this, her tenth work of fiction. Life After Life is filled with a sense of wonder at our capacity for self-discovery at any age. And the residents, staff, and neighbors of the Pine Haven retirement center (from twelve-year-old Abby to eighty-five-year-old Sadie) share some of life's most profound discoveries and are some of the most true-to-life characters that you are ever likely to meet in fiction. Delivered with her trademark wit, Jill McCorkle's constantly surprising novel illuminates the possibilities of second chances, hope, and rediscovering life right up to the very end. She has conjured an entire community that reminds us that grace and magic can—and do—appear when we least expect it. 
About the Author
---
Jill McCorkle is the author of nine previous books—four story collections and five novels—five of which have been selected as New York Times Notable Books. The recipient of the New England Book Award, the John Dos Passos Prize for Excellence in Literature, and the North Carolina Prize for Literature, she teaches writing at North Carolina State University and lives in Hillsborough, North Carolina. Visit her online at www.jillmccorkle.com. 
Praise For…
---
"Who knew death, regret, and lengthy ruminations about days past could add up to a novel this vibrant, hopeful, and compelling? . . . Gorgeously written . . . McCorkle's greatest gift is in illuminating the countless tiny moments that make up our time on Earth." —O: The Oprah Magazine
"Clever, bighearted, and wise." —Vanity Fair
"The elderly residents of Pine Haven live and yearn and challenge one another with an exuberance that jumps off the page."—The New York Times "Home & Garden" section
"Leave it to McCorkle to plumb the ultimate new beginning in this down-home, Southern-style Book of the Dead. Illuminating, reassuring, and enlarging our understanding of the crossing from this world to the next, her novel sings with the mystical, the magical and the fragility of this thing called life." —The Atlanta Journal-Constitution
"Balances humor and sorrow." —NPR's All Things Considered
"A vividly voiced round-robin of interlocking stories set in and around a North Carolina retirement home . . . Great . . . Sharply real." —Entertainment Weekly
"Funny and painful, Life After Life explores not dying, but rather the mysteries of living — the second chances, the human connection, the love. The result is an impressive and poignant interweaving of vibrant characters; overlapping tales create a whole that is greater than the separate parts. McCorkle returns to the novel with a deeper wisdom and moral intensity. With a Southern flair, she invites the reader to muse on what matters most in the days we are given. Was it worth the wait? In a word, yes." —Richmond Times-Dispatch
"McCorkle's masterful microcosm invokes profound sadness, harsh insight and guffaws, often on the same page." —Kirkus Reviews
"A powerful gift for dialogue has always animated Jill McCorkle's fiction, and here we hear some astonishing voices . . . As readers, we feel honored to witness their passages." —The Boston Globe
"A story and characters that readers won't soon forget." —Minneapolis Star Tribune
— Unpublished endorsements