Mattaponi Queen: Stories (Paperback)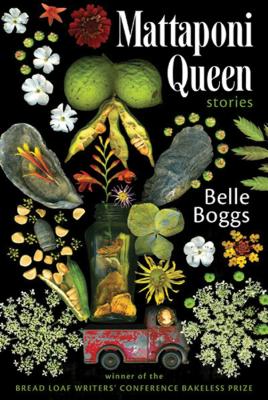 Description
---
Winner of the 2009 Bakeless Fiction Prize, a confident debut collection from Belle Boggs about life on and around the Mattaponi Indian Reservation
Set on the Mattaponi Indian Reservation and in its surrounding counties, the stories in this linked collection detail the lives of rural men and women with stark realism and plainspoken humor. A young military couple faces a future shadowed by injury and untold secrets. A dying alcoholic attempts to reconcile with his estranged children. And an elderly woman's nurse weathers life with her irascible charge by making payments on a decrepit houseboat—the Mattaponi Queen. The land is parceled into lots, work opportunities are few, and the remaining inhabitants must choose between desire and necessity as they navigate the murky stream of possession, love, and everything in between.
About the Author
---
BELLE BOGGS has published work in Glimmer Train, Oxford American, and Best New American Voices 2003. She received an MA in fiction from the University of California at Irvine and grew up in King William County, Virginia.
Praise For…
---
"Strongly imagined, finely controlled and well-crafted. These stories are good because they are true, true in that way that only good fiction can be." —Percival Everett, Bakeless Fiction Judge
"Belle Boggs infuses these stories of sometimes hardscrabble, dreams-deferred lives with a finely crafted, absolutely confident elegance. Boggs is a writer who knows how deep and how hard we can love and live. Her characters are too real to ever forget." —Marita Golden, author of After
"Belle Boggs is an immensely gifted writer, and this is a remarkable debut collection-each nuance of emotion, of insight, of dialogue and character, is pitch-perfect and surprisingly resonant." —Mary Yukari Waters, author of The Favorites
"The Mattaponi River is the confluence of three rivers and is also the stunning metaphor for a place where three races have lived inextricable histories for generations. Indeed, the stories in Mattaponi Queen gather like converging waters until the narrative world is coursing and undeniable. A few lives leak away from the Mattaponi, others never leave its banks, but character and place are one in this world so unapologetically evoked by Belle Boggs' beautiful, direct prose, and tension is not so much a few events as it is a constancy that is occasionally emerged from, the water moccasin head above the
water . . . and then not . . ." —Michelle Latiolais, author of Even Now and A Proper Knowledge
"Mattaponi Queen was one of the best things I've read all year. I looked forward each night to a new story, and by the end, felt as if I'd been sitting in a car or on a porch with a cousin or neighbor, listening to how things went wrong, or how they could have gone right, or how they might still look up. The setting was so perfectly rendered that I saw the river, the dirt roads, the woods, and most of all, the way each character moved in that landscape. The interwoven stories remind me of Annie Proulx crossed with Ernest Gaines--the dry humor, the understatement, and the wonderful dialogue that sounds as if I'm hearing it while sitting on a folding chair in a yard." —Susan Straight, author of A Million Nightingales
Free Media Mail shipping on U.S. orders over $50
Christmas ordering guidelines
"Ships from warehouse" items to be shipped: Order by Monday, 12/5
"Ships from warehouse" items to be picked-up in store: Order by Monday, 12/12
On hand items: We'll pull items in order of orders received, so keep them coming!