Sing Me to Sleep (Hardcover)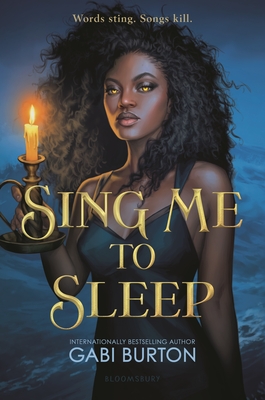 $19.99

Coming soon - PRE-ORDER NOW!
Description
---
In this dark and seductive YA fantasy debut, a siren must choose between protecting her family and following her heart in a prejudiced kingdom where her existence is illegal.

Saoirse Sorkova survives on lies. As a soldier-in-training at the most prestigious barracks in the kingdom, she lies about being a siren to avoid execution. At night, working as an assassin for a dangerous group of mercenaries, Saoirse lies about her true identity. And to her family, Saoirse tells the biggest lie of all: that she can control her siren powers and doesn't struggle constantly against an impulse to kill.

As the top trainee in her class, Saoirse would be headed for a bright future if it weren't for the need to keep her secrets out of the spotlight. But when a mysterious blackmailer threatens her sister, Saoirse takes a dangerous job that will help her investigate: she becomes personal bodyguard to the crown prince.

Saoirse should hate Prince Hayes. After all, his father is the one who enforces the kingdom's brutal creature segregation laws. But when Hayes turns out to be kind, thoughtful, and charming, Saoirse finds herself increasingly drawn to him-especially when they're forced to work together to stop a deadly killer who's plaguing the city. There's only one problem: Saoirse is that deadly killer.

Featuring an all Black and Brown cast, a forbidden romance, and a compulsively dark plot full of twists, this thrilling YA fantasy is perfect for fans of A Song Below Water and To Kill a Kingdom.
About the Author
---
Gabi Burton grew up reading and writing in St. Louis, Missouri. She graduated from Bowdoin College in Brunswick, Maine in 2021. Now, she works as a paralegal and author on the East Coast. When she's not working or writing, she's probably watching Netflix, scrolling through Twitter, or finding beautiful places to walk-preferably near a body of water.
gabiburton.com
@query_queen339
Praise For…
---
"Everything about Burton's debut is razor-sharp: the writing, the tension, the twists, the action, the romance, and, of course, its heroine Saoirse herself. The magical yet treacherous Kingdom of Keirdre is an alluring backdrop for this story of deceit and deception, where no one and nothing is to be trusted - not even your own heart." —Natasha Ngan, New York Times bestselling author of Girls of Paper and Fire

"Burton pens a darkly enchanting fantasy that brims with siren magic, political intrigue, and the most swoon-worthy romance that will, undoubtedly, leave you begging for the next book in the series. Perfect for readers who crave a compelling, high stakes plot from start to finish, sharp-witted characters you can't help but root for, and at its heart, a beautifully flawed, morally gray heroine willing to go to great lengths to save the people she loves. Sing Me To Sleep is as thrilling as it is seductive." —Deborah Falaye, author of Blood Scion

"A dark and sweeping fantasy, that––like a siren song––will pull you in from the very first page." —Alechia Dow, author of The Sound of Stars

"Richly imagined and utterly immersive, Sing Me to Sleep will call to you like the sea. Saoirse is a deeply compelling character: vicious, frightened, and tender as she navigates mysteries, lies, and betrayal in the Kingdom of Keirdre. With an expansive cast of characters, a morally grey heroine, and a swoon-worthy prince, at its heart, this is a story about loyalty and will speak to anyone willing to go to great lengths for the people they love. Gabi Burton's debut is as captivating as the magic within its pages, and will leave you breathless until the final line." —Adrienne Tooley, author of Sweet & Bitter Magic and The Third Daughter

"[A] thrilling page-turner. Snappy dialogue, unpredictable plot twists, skillful worldbuilding, strong characterization, and steamy, sensual tension between Saoirse and the prince create an immersive tale with an empowering social justice tone centering a predominantly Black and brown cast." —Kirkus Reviews, starred review

"Burton spins an unforgettable debut that boasts impeccable characterizations and fresh takes on well-trod tropes that promise an amorous adventure centering a devoted, rag-tag family, stirring mythos, and sweetly budding romance." —Publishers Weekly, Starred Review

"Burton's fast-paced debut is sure to dazzle readers. . . An enthralling read with complex and morally gray characters. . . A fantasy that will hook from the first page and won't let go until the very last!" —Booklist
We will be open on Memorial Day from 10 AM until 6 PM.
Free Media Mail shipping on U.S. orders over $50