This Poison Heart (Paperback)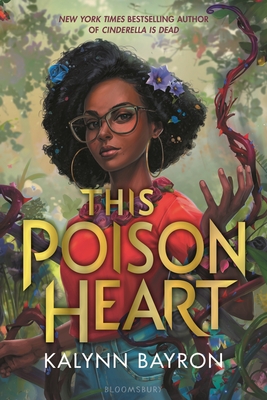 Staff Reviews
---
You know that GIF of Lady Gaga going "Brilliant. Incredible. Amazing. Showstopping. Spectacular." and she just keeps going on? That's how I feel about this book. Kalynn's writing is magical and she has a way of seamlessly mixing dark mystery and hysterical one-liners that made me unable to look away (I was seriously cackling one minute and biting my nails the next). I need book two immediately.
(I also strongly recommend having your phone near you as you read so you can look up pictures of all the beautiful plants, it really adds to the experience.)
— tee
May/June 2021 Kids Indie Next List
---
"Kalynn Bayron is back with another beautiful book centered on a strong, young, black woman and full of intrigue and excitement. If you are a fan of supernatural elements set in contemporary life, you are going to want to read This Poison Heart. This book is also just so darn smart, and I love the no fuss inclusion of LGBTQ and non-binary characters."
— Lisa Swayze, Buffalo Street Books, Ithaca, NY
Description
---
Darkness blooms in bestselling author Kalynn Bayron's new contemporary fantasy about a girl with a unique and deadly power.

Briseis has a gift: with a single touch she can grow plants from tiny seeds to rich blooms.

When Briseis's aunt dies and wills her a dilapidated estate in rural New York, Bri and her parents hope that surrounded by plants and flowers, she will finally learn to control her gift. But their new home is sinister in ways they never expected-it comes with a mysterious set of instructions, a walled garden filled with the deadliest botanicals in the world, and generations of secrets. There is more to Bri's sudden inheritance than she could have imagined, and she is determined to uncover it.

From the bestselling author of Cinderella Is Dead comes an enchanting story about a young woman with the power to conquer the dark forces descending around her.
About the Author
---
Kalynn Bayron is the bestselling author of the award-winning YA fantasy Cinderella Is Dead and This Poison Heart. She is a classically trained vocalist and when she's not writing you can find her listening to Ella Fitzgerald on loop, attending the theater, watching scary movies, and spending time with her kids. She currently lives in upstate New York with her family.
Praise For…
---
"A verdant read as rich as the greenery within it, This Poison Heart will wrap its vines around you and never let go." —Kayla Ancrum, author of THE WICKER KING

"Bayron takes an old story, turns it on its head, and makes it her own with a stunning display of pacing, character, and legacy." —#1 New York Times bestselling author E.K. Johnston

"Thrilling and magnetic, This Poison Heart pulses with true Black girl magic and endless mystery." —Julian Winters, award-winning author of RUNNING WITH LIONS

"Kalynn Bayron does more than re-write a fairy-tale . . . She breaks it apart and rebuilds it into a wholly original and captivating story where girls finally decide for themselves who lives happily ever after." —Brigid Kemmerer, New York Times bestselling author of A CURSE SO DARK AND LONELY, on CINDERELLA IS DEAD

"Bayron weaves science and Greek mythology into a captivating lore that lends weight to this fantastical contemporary story. She conjures entertaining and realistic dialogue and attentive characterization, while incisive descriptions and sumptuous prose evoke a wonderfully gothic atmosphere." —Publishers Weekly, starred review

"This Poison Heart masterfully weaves a unique story grounded in the depths of Greek mythology and Black girlhood, ideal for lovers of folklore or those who enjoy the thrill of a well-paced and unanticipated adventure." —Booklist, starred review

"Bayron strikes just the right balance of mystical and modern, bringing elements of mythology and spirituality to Bri's family roots while situating her securely in a relatable adolescence." —The Bulletin of the Center of Children's Books

"Bayron conjures a world filled with magic and mystery. Brings much-needed inclusivity and contemporary flavor to the teen fantasy genre." —Kirkus Reviews

"I'm a big fan of tropes and love seeing how marginalized authors take them in new and interesting directions, something Bayron does very well here, and a big part of that is due to how well-developed her characters are. . . . . It's a fast-paced mystery with a clever twist on the myth of Medea. The story is full of queer Black girl magic, and I can't wait to see where Kalynn Bayron takes it." —Locus Magazine

"The twists and turns of this fantasy tale will keep readers engaged . . . . Readers will be inspired." —School Library Connection

"Flipping the Cinderella tale on its head, Bayron's take challenges patriarchy with kick-butt heroines and a counter-story that will forever change how readers perceive fairy tales." —Booklist, starred review, on CINDERELLA IS DEAD

"Readers looking for dystopia, queer romance, LGBTQ inclusiveness, and women sticking it to the patriarchy will be pleased." —SLJ on CINDERELLA IS DEAD

"A queer dystopian fantasy that questions written history and societal expectations." —Shelf Awareness on CINDERELLA IS DEAD

"Bayron's deconstructive reimagining of the classic fairy tale is ambitious, replacing the happily-ever-after with a tragic legacy and a defiant, feminist tone." —Publishers Weekly on CINDERELLA IS DEAD
We will be open on Memorial Day from 10 AM until 6 PM.
Free Media Mail shipping on U.S. orders over $50