Honestly Elliott (Hardcover)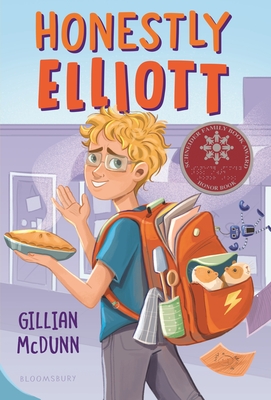 Staff Reviews
---
Ages 8-12
It's hard to be a human, especially if you are a 6th grade boy with ADHD. Elliott's best friend has moved away, he is failing his first semester in middle school, he feels estranged from his dad and new stepmother, and his friends don't want him in their school group project. His one outlet for happiness is cooking (and even this hobby is viewed as odd by others).
Instantly engaging, realistic, funny and ultimately joyful, I LOVE THIS BOOK SO MUCH!
— Abbe
Description
---
Highly-acclaimed author of Caterpillar Summer, Gillian McDunn explores boyhood in a funny, big-hearted story about a kid trying to find the best way to be his best self.

Elliott has been struggling since his closest friend moved away, and he's not too sure where he fits into his own family, especially since his newly remarried dad and stepmom are expecting a baby. His grades aren't too great, he's always forgetting things, and he doesn't really like sports. All together, the result is someone the complete opposite of his dad--a fact they're both very aware of. Elliott's only solace is cooking, where he can control the outcome, testing exciting recipes and watching his favorite cooking shows.

When he's paired with the super smart and popular Maribel for a school-wide project, Elliott worries they won't see eye to eye. But Maribel is also looking for a new way to show others her true self and this project could be the chance they've both been waiting for. Sometimes the least likely friends help you see a new side to things . . . and sometimes you have to make a few mistakes before you figure out what's right.


Acclaim for Caterpillar Summer
An Indies Introduce Pick
A Texas Bluebonnet Selection
A Parents Best Book of the Year
A Kirkus Reviews Best Book of the Year
An Amazon Best Book of the Year
About the Author
---
Gillian McDunn is the author of These Unlucky Stars, The Queen Bee and Me, and Caterpillar Summer, which received two starred reviews, and was selected for the Texas Bluebonnet Award Master List, and Kirkus Reviews and Parents magazine Best Books of the Year lists. When she isn't reading or writing, she is probably baking gluten-free treats, traveling, or spending time with her family. She lives near Raleigh, North Carolina, with her husband and children, and a very silly dog named Friday.

www.gillianmcdunn.com
@gillianmcdunn
Praise For…
---
"Starring a sweet and messy kid tackling problems that will bring laughter and tears, Honestly Elliott has all the ingredients for a memorable story." —Lynne Kelly, author of SONG FOR A WHALE

"McDunn is a master at creating characters that are fun, flawed, and above all, real. Full of humor and heart, Honestly Elliott is honestly and truly middle-grade at its best." —Jess Redman, author of THE MIRACULOUS and THE ADVENTURE IS NOW

"A novel full of heart, humor, and honesty. . . . Elliot is an instantly lovable character, and readers will be hooked from the very first chapter." - School Library Journal, starred review

"McDunn has a talent for creating sympathetic characters. . . . This well-paced, heartfelt chapter book offers a lovable main character, a lively supporting cast, and a satisfying conclusion." —Booklist, starred review

"McDunn (These Unlucky Stars) offers an affirming and nuanced depiction of empathetic and creative Elliott's experience of ADHD. . . . Elliott's relationship with his father, from whom he craves acceptance despite his dad's failure to acknowledge Elliott's specific challenges, is particularly inspiring as the two work toward openness and understanding." —Publishers Weekly, starred review

"In a droll, engaging, self-effacing, and disarmingly open voice, Elliott narrates his story, providing realistic, firsthand insights into living with ADHD. A refreshingly honest exploration of family and friendship." —Kirkus Reviews, starred review

"A slice-of-pie, er, -life novel with all the right ingredients for a satisfying read." —The Horn Book

"Middle schoolers will laugh, and maybe even cry, as they follow along with Elliott as he stumbles through his days and finally finds a place of comfort for his warm heart and special way of approaching life. This title will be a winner for any reader looking for a story that reads like it could be about a real kid they might know." —School Library Connection

"McDunn offers a warmhearted, nuanced look at a slightly lonely child. . . . genuine and engaging. . . . Heartfelt and appealing." —Kirkus Reviews, on THESE UNLUCKY STARS

"McDunn portrays the intertwined emotional lives of middle-school kids with sensitivity and precision. . . . An insightful story of friendship and change." —Booklist, starred review, on THE QUEEN BEE AND ME

"Meg's first-person narration is emotive and candid. . . . Refreshingly genuine." —Kirkus Reviews on THE QUEEN BEE AND ME

"McDunn deftly sketches Meg's struggles amid seventh grade's unspoken social order. . . . Readers will identify with the pitch-perfect middle school dynamics." —Publishers Weekly on THE QUEEN BEE AND ME

"An engaging, honest book--I love Cat, and you will, too!" —Kimberly Brubaker Bradley, Newbery Honor-winning author of THE WAR THAT SAVED MY LIFE on CATERPILLAR SUMMER

"I could almost smell the ocean air as I read Gillian McDunn's Caterpillar Summer. What a beautiful story of family, forgiveness, life on an island, and growing up." —Kate Messner, author of BREAKOUT and THE SEVENTH WISH on CATERPILLAR SUMMER

"An engrossing, heartwarming, beautifully written debut about building and rebuilding family ties." —Kirkus Reviews, starred review, on CATERPILLAR SUMMER

"McDunn's poignant, gratifying debut about friendship and family encourages both empathy and hope." —Publishers Weekly, starred review, on CATERPILLAR SUMMER
Free Media Mail shipping on U.S. orders over $50
Christmas ordering guidelines
"Ships from warehouse" items to be shipped: Order by Monday, 12/5
"Ships from warehouse" items to be picked-up in store: Order by Monday, 12/12
On hand items: We'll pull items in order of orders received, so keep them coming!