Holy Unhappiness: God, Goodness, and the Myth of the Blessed Life (Hardcover)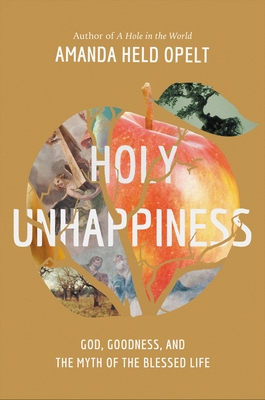 Description
---
Discover what it means to be blessed and challenge the false beliefs many in the church hold about "the good life" and what it means to walk in communion with God.
American Christians have developed a long list of expectations about what the life with God will 
feel
 like.  Many Christians rightly deny the prosperity gospel—the idea that God wants you to be healthy and wealthy— but instead embrace its more subtle spin-off, the emotional prosperity gospel, or the belief that happiness and spiritual euphoria will inevitably follow if you believe all the right things and make all the right choices. In this view, frustration is deemed unholy, fear is seen as a failure of faith, and sadness is a sign of God's disfavor. 
In 
Holy Unhappiness
, Amanda Held Opelt, author of 
A Hole in the World
, grapples with her own experience of disillusionment when life with God didn't always feel the way she expected it to feel.  She examines some of the historic, religious, and cultural influences that led to the idolization of positive feelings and the marginalization of negative feelings.  Unpacking nine elements of life that have been tainted by the message of the emotional Prosperity Gospel – including work, marriage, parenting, calling, community, and church - she points to a new path forward, one that reimagines what the "blessed" life can be like if we release some of our expectations and seek God in places we never thought to look.
This is a book that asks "what good is God?" when he doesn't always make sorrow go away or soothe every fear.  It is a book that explores our aversion to sadness and counts the costs of our unrelenting commitment to optimism. This is a book that insists there is holiness to be found even in our unhappiness.  
About the Author
---
Amanda Held Opelt is a speaker, songwriter, and author of the book A Hole in the World: Finding Hope in Rituals of Grief and Healing. She believes in the power of faith, community, ritual, worship, and shared stories to heal even our deepest wounds. Amanda has spent the last 15 years in the non-profit and humanitarian aid sectors.  She lives in the mountains of Boone, North Carolina with her husband and young two daughters.
Praise For…
---
"Eye-opening…Weaving in biblical passages and intimate personal anecdotes, Opelt delivers both a sharp critique of the emotional prosperity gospel and a soulful, autobiographical search for meaning. This provides much food for thought."
 —Publishers Weekly

"Holy Unhappiness is the gospel for our pain and difficulty. I can't commend the tenderhearted approach that Amanda embodies here enough. A balm for the soul. And hope for our scars. What a glorious read."
 —A.J. Swoboda (PhD, University of Birmingham) is the associate professor of Bible, theology, and World Christianity at Bushnell University and the author of After Doubt.

"For years I have struggled to be honest with myself when navigating my negative feelings. I would rush past them in my attempt to be faithful through trial. Amanda brings up a conversation that more of us need to be having about what the Christian life actually looks like. Holy Unhappiness will give you permission to be yourself."
 —Heather Thompson Day, Author of I'll See You Tomorrow

"Amanda's lovely blend of reflection and memoir flows from a heart acquainted with grief and unsatisfied with the cheap remedies our churches and culture too often prescribe. This is a work of immense honesty and prophetic clarity." 
 —Chuck DeGroat, PhD, LPC, Professor of Pastoral Care and Christian Spirituality, Interim D.Min. Director, Western Theological Seminary
Free Media Mail shipping on U.S. orders over $75