FREE Media Mail shipping on eligible items! We are open for browsing by appointment from 10am-7pm M-S and 10am-6pm Sundays. Email books@quailridgebooks.com for a reservation. Phones may not be answered due to high volume of calls.
All of a Sudden and Forever: Help and Healing After the Oklahoma City Bombing (Library Binding)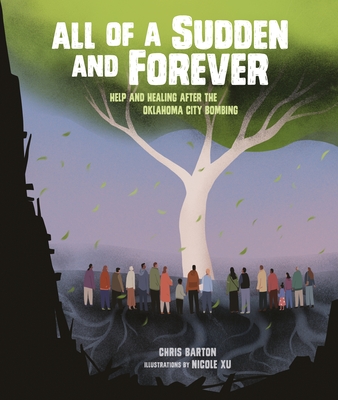 Description
---
A profoundly moving nonfiction picture book about tragedy, hope, and healing from award-winning author Chris Barton.
Sometimes bad things happen, and you have to tell everyone. Sometimes terrible things happen, and everybody knows. On April 19, 1995, something terrible happened in Oklahoma City: a bomb exploded, and people were hurt and killed. But that was not the end of the story. Those who survived--and those who were forever changed--shared their stories and began to heal. Near the site of the bomb blast, an American elm tree began to heal as well. People took care of the tree just as they took care of each other. The tree and its seedlings now offer solace to people around the world grappling with tragedy and loss.
Released to coincide with the 25th anniversary of the Oklahoma City bombing, this book commemorates what was lost and offers hope for the future.