The Tao of the Backup Catcher: Playing Baseball for the Love of the Game (Hardcover)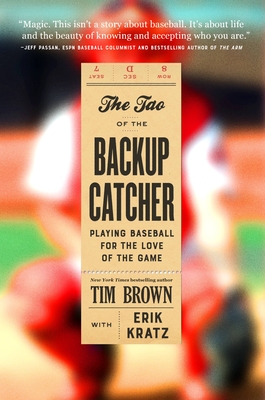 Staff Reviews
---
Erik Kratz is a special man. His wife Sarah, is even more remarkable, because she helped Erik follow his dream, even when the dream kept evading him. The Tao of the Backup Catcher by Erik and NYT bestselling author Tim Brown, is the story of that dream. Erik played professional baseball for 19 years with 15 teams.  He was always good enough to make the team, but never good enough to be the Number One Catcher, or stay with one team too long. He played backup catcher for all those years because he loved the game, accepted what his talents were (and were not), and truly felt he was making a difference on every team he played for. I can relate to this because I too, found a job I loved and did it to the best of my ability. Yes, it was Quail Ridge Books, not Pro Ball, but I feel very much like Erik.  This book tells the story of the proverbial "journeyman", in whatever form that may take. Baseball fans should love it, but everyone can take something from it.
— Bill
Description
---
"This isn't just a story about baseball. It's about life and the beauty of knowing and accepting who you are." —Jeff Passan, ESPN baseball columnist

This fascinating book chronicles the unsung men of baseball who serve the job, the hardships they face, and their love for a game that would not always love them back―told partly through the experiences of an MLB veteran.​

In baseball there are superstars and stars and everyday players and then there are the rest. Within the rest are role players and specialists and journeymen and then there are the backup catchers. The Tao of the Backup Catcher is about them, the backup catchers, who exist near the bottom of the roster and the end of the bench and between the numbers in a sport–and a society–increasingly driven by cold, hard analytics.

The Tao of the Backup Catcher is a story of grown men who once dreamed of stardom and generational wealth. Instead, they were handed a broom and a deeper understanding of who wins and why, who stands tall and who folds, and who will invest their own lives in catching bullpens and the back ends of doubleheaders.

Backup catchers survive in part because every team needs one. They are necessary, once or twice a week. They prosper because the game, like the world around the game, still needs good souls, honest efforts, open eyes and ears, closed mouths, compassion for the sad parts, a laugh for the silly parts, and a heart that knows the difference. Backup catchers are sports' big brothers, psychologists, priests, witch doctors, player coaches, father figures and drinking buddies, all wrapped in a suit of today's polycarbonate armor and yesterday's dirt. They come with a singular goal–to win baseball games. They play for the greater good. After that, they play for themselves. A reverie on loving the grind and the little things baseball can teach us, The Tao of the Backup Catcher profiles Erik Kratz, Josh Paul, AJ Ellis, Bobby Wilson, Drew Butera, Matt Treanor, and John Flaherty to name a few. 

"This isn't just a story about baseball. It's about life and the beauty of knowing and accepting who you are." ―Jeff Passan  
About the Author
---
Tim Brown has covered baseball for more than 30 years and has written two New York Times bestsellers: The Phenomenon with Rick Ankiel and Imperfect with Jim Abbott. In 2016, he was awarded first place in beat writing by the Associated Press Sports Editors. 

Erik Kratz played baseball for 14 different MLB organizations over a 19-year career—13 years in the minor leagues and 6 years total in the big leagues—many of them as a backup catcher. 
Praise For…
---
"Lend Tim Brown's inimitable voice to a sporting subculture overflowing with personality, mix in Erik Kratz's tale of perseverance and what blossoms is magic. This isn't just a story about baseball. It's about life and the beauty of knowing and accepting who you are."—Jeff Passan, ESPN baseball columnist and bestselling author of The Arm

"This is a honey of a book. Tim Brown and Erik Kratz have my everlasting gratitude for this exquisite reminder of what baseball—and baseball writing—was like before velo, and rpms, and launch angles and barrels, and $43.3 million dollar annual salaries changed the conversation and the game became a discussion about everything other than people. This ode to the backup catcher with grit beneath his fingernails and grit within his soul is a must read. It will make you feel better about humanity."—Jane Leavy, author of national bestsellers The Last Boy and The Big Fella

"This is a beautiful book. A Sunday morning clubhouse, pregame coffee, the nerves and excitement of going up against the very best in the world.  In the middle of all this, the comfort of the Backup Catcher with a gleam in his eye, and a deep appreciation for this moment. This book reminds us of the beauty of baseball, the characters who play, and the lessons we all might carry away from an approach that doesn't take anything for granted."—Jim Abbott, former major league pitcher

"The late, great Hall of Famer Joe Morgan once told me that baseball is only fun if you're really, really good at it. The rest is unforgiving, hard work. Tim Brown is a baseball fan's writer: really, really good at it while appreciating the hard work, the people who do it, and its costs. Erik Kratz is who we all think we are, dedicated, willing to put in the time for the unglamorous results. The combination of these two is a real story for real people. If you care about the work of baseball, and not just the glory, this is the perfect book for you."—Howard Bryant, author of Rickey: The Life and Legend of an American Original

"Tim Brown is a brilliant baseball wordsmith, and Erik Kratz is a delightful baseball personality, and together they have combined to write a wonderful book celebrating baseball's hidden heart. This is a tale of ultimate grinders who toil in obscurity yet epitomize integrity. While you may have never heard of them, you'll never be able to forget them."—Bill Plaschke, Los Angeles Times sports columnist and panelist on ESPN's Around the Horn

"Erik's incredible journey through baseball has created a rare wisdom for both life and our wonderful game.  Enjoy the ride through the countless teachable moments that the life of the back up catcher offers."—Craig Counsell, manager of the Milwaukee Brewers

"The backup catcher is one of the most interesting and intriguing positions in major league baseball. He is always ready, always alert and rarely plays. In THE TAO OF THE BACKUP CATCHER, Tim Brown and Erik Kratz take us inside this fascinating world and deliver a riveting account of what players endure in their quest to succeed at this challenging job. It's compelling, it's emotional and it's a must-read for the backup catcher in all of us." —Jack Curry, three-time New York Times bestselling author and studio analyst for the YES Network

"If God is in the details, then what Tim Brown has done with the story of Erik Kratz is divine. Yes, it's a baseball book by one of our finest baseball writers. No one better understands the subtleties and hierarchies of life in the clubhouse better than Brown, nor is anyone better at describing the interior of the game. But THE TAO OF THE BACKUP CATCHER is also an ode to that which seems diminished in American life: humility, dedication, craft, a kind of virtue that doesn't require an affirming emoji, an endzone dance, a bat toss, or even a pat on the back."—Mark Kriegel, author of Pistol and The Good Son

"It's the stories that make baseball special, and often nobody has more of them than those backup catchers. Tim uses those stories to take us on a rich dive into one of the most underexplored and underappreciated subcultures in the sport."—Joe Davis, FOX Sports' lead play-by-play announcer

"Nobody captures the soul of a ballplayer like Tim Brown. In THE TAO OF THE BACKUP CATCHER, Brown delivers a masterpiece on the invisible yet indispensable character on every team, the guy who knows the value in using a new mitt to warm up a fading veteran, just to get a louder pop on the fastball. With graceful writing and richly detailed reporting, Brown shows that when you know the backup catcher – a role that's three-quarters psychologist and one-quarter ballplayer, as one practitioner put it – you'll understand the heart of baseball."—Tyler Kepner, New York Times bestselling author of K: A History of Baseball in Ten Pitches

"An empathetic tribute to athletes who spend their lives just outside the spotlight."—Publisher's Weekly

"A refreshing and inspiring baseball story that will resonate with the 99 percent who never make it big. It will likely enlighten and inspire baseball players and non-athletes alike into learning that greater joy can come from serving others instead of just being served." —Library Journal Starred Review
Free Media Mail shipping on U.S. orders over $75