We will open at 11am on Friday, February 21.
Deep River (Compact Disc)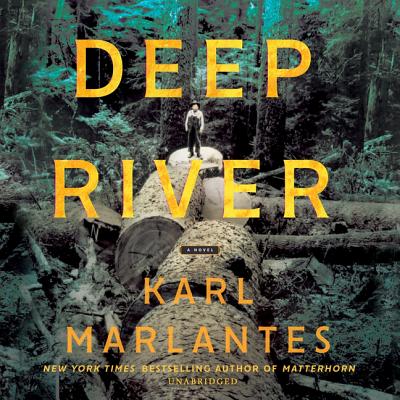 Staff Reviews
---
As I read Karl Marlantes' new book, Deep River, the three siblings of the Koski family became part of my psyche. No wonder—the book is a little over 700 pages! I knew the characters intimately by the end of it. Set in Washington State in the early twentieth century, the novel explores the plight of those who fled Russian imperialism, the rise of labor unions, and the hardscrabble life of workers in the lumber industry. World War I, the stock market crash, and the Great Depression further demoralized and adversely affected this community living mostly on the edge of poverty. The tension and danger inherent in logging virgin forests paired perfectly with the danger faced by Aino, the sister, as she became a revolutionary supporter of the often-violent union movement. Marlantes' first novel, Matterhorn, A Novel of the Vietnam War, is one of my favorite books. He has put the same attention to detail and authenticity into Deep River. (He is of Finnish descent, and this novel was in part an exploration of that ancestry.) 
— Mamie
Description
---
Karl Marlantes's debut novel, Matterhorn, has been hailed as a modern classic of war literature. In his new novel, Deep River, Marlantes turns to another mode of storytelling―the family epic―to craft a stunningly expansive narrative of human suffering, courage, and reinvention.
In the early 1900s, as the oppression of Russia's imperial rule takes its toll on Finland, the three Koski siblings―Ilmari, Matti, and the politicized young Aino―are forced to flee to the United States. Not far from the majestic Columbia River, the siblings settle among other Finns in a logging community in southern Washington, where the first harvesting of the colossal old-growth forests begets rapid development, and radical labor movements begin to catch fire. The brothers face the excitement and danger of pioneering this frontier wilderness―climbing and felling trees one hundred meters high―while Aino, foremost of the book's many strong, independent women, devotes herself to organizing the industry's first unions. As the Koski siblings strive to rebuild lives and families in an America in flux, they also try to hold fast to the traditions of a home they left behind.
Layered with fascinating historical detail, this is a novel that breathes deeply of the sun-dappled forest and bears witness to the stump-ridden fields the loggers, and the first waves of modernity, leave behind. At its heart, Deep River is an ambitious and timely exploration of the place of the individual, and of the immigrant, in an America still in the process of defining its own identity.