Northbound: A Train Ride Out of Segregation (Paperback)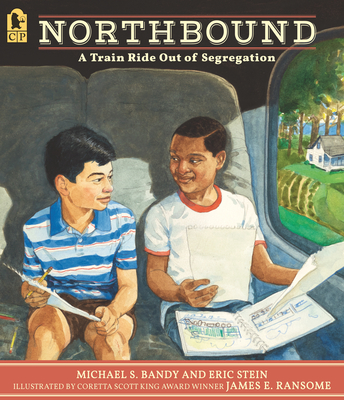 Description
---
On his first train ride, Michael meets a new friend from the "whites only" car—but finds they can hang together for only part of the trip—in the last story in a trilogy about the author's life growing up in the segregated South.

Michael and his granddaddy always stop working to watch the trains as they rush by their Alabama farm on the way to distant places. One day Michael gets what he's always dreamed of: his first train journey, to visit cousins in Ohio! Boarding the train in the bustling station, Michael and his grandma follow the conductor to the car with the "colored only" sign. But when the train pulls out of Atlanta, the signs come down, and a boy from the next car runs up to Michael, inviting him to explore. The two new friends happily scour the train together and play in Bobby Ray's car—until the conductor calls out "Chattanooga!" and abruptly ushers Michael back to his grandma for the rest of the ride. How could the rules be so changeable from state to state—and so unfair? Based on author Michael Bandy's own recollections of taking the train as a boy during the segregation era, this story of a child's magical first experience is intercut with a sense of baffling injustice, offering both a hopeful tale of friendship and a window into a dark period of history that still resonates today.
About the Author
---
Michael S. Bandy is the coauthor, with Eric Stein, of White Water and Granddaddy's Turn: A Journey to the Ballot Box,both illustrated by James E. Ransome. White Water was adapted into an award-winning screenplay that was developed into a film. Michael S. Bandy lives in Los Angeles.

Eric Stein is the coauthor, with Michael S. Bandy, of White Water and Granddaddy's Turn and also the coauthor and coproducer of the film White Water. Eric Stein lives in Sherman Oaks, California.

James E. Ransome, the 2023 winner of the Children's Literature Legacy Award, is the illustrator of Granddaddy's Turn by Michael S. Bandy and Eric Stein, as well as the Coretta Scott King Illustrator Award winner The Creation and many other books for children. James E. Ransome lives in Rhinebeck, New York.
Praise For…
---
In these lushly illustrated watercolor and collage images, Ransome effectively captures the boys' kinship amid the senseless, racist Jim Crow laws that separate them. The bucolic landscape outside the train's windows sharply conflicts with the train conductor's removal of Michael from the White car. Backmatter addresses the laws that created this unjust travel condition, beginning in 1887 with the Interstate Commerce Act...Painful history portrayed honestly and beautifully to help children understand the very personal impact of racism.
—Kirkus Reviews (starred review)

The team behind Granddaddy's Turn introduces readers to the cruelty of U.S. segregation through the eyes of a child...Vivid, tightly focused watercolor portraits by Ransome straightforwardly convey the racist policy's effect on two children, and Bandy and Stein let Michael draw his own thoughtful conclusions in this narrative: "It just didn't make any sense at all."
—Publishers Weekly Online (starred review)

Ransome's watercolor scenes balance the details of train travel that so excited the characters (and will doubtless intrigue even a current Amtrak audience), with understated tracking of the boys' unfolding friendship...This is a good discussion starter for young listeners who may confront lines not of their making and mixed messages about crossing them.
—Bulletin of the Center for Children's Books

In this picture book set in the 1960s (and inspired by the author's childhood memories), Michael and his granddaddy are fascinated by the powerful trains that rush by their Alabama farm going North...In his signature watercolor style with collage, Ransome perfectly delivers the wonderment of a boy's first train ride with beautifully rendered picturesque landscapes, and sensitively captures the innocence of children whose friendship defies the unjust laws of segregation. The author's note provides brief context for the story, beginning with the 1887 Interstate Commerce Act that regulated railway transportation across state lines.
—The Horn Book
Free Media Mail shipping on U.S. orders over $75