Beverly, Right Here (Paperback)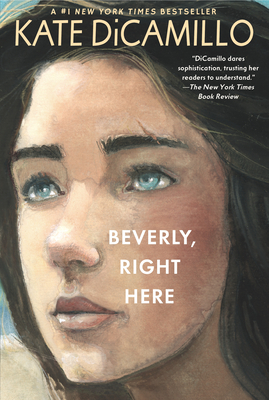 Staff Reviews
---
I read "Raymie Nightengale" and fell in love with Raymie.
I read "Louisiana's Way Home" and fell in love with Louisiana.
I read "Beverly, Right Here" and fell in love with Beverly.
That's Kate DiCamillo at work.
Beverly is tough, independent and resourceful. Her story begins when she decides to "leave" (as opposed to "run away") home at the ripe old age of 14. Her beloved dog, Buddy, has died and left her brokenhearted. Her selfish, alcoholic mother continues to disappoint her. When she arrives in her new town, she quickly finds a job and a place to live. What she doesn't expect is the deepening connections from new friends, a sense of belonging and a blossoming new self-confidence.
As always, Kate DiCamillo delivers unforgettable characters, a great story and an uplifting message.
— Abbe & Kiwi
Fall 2019 Kids Indie Next List
---
"Kate DiCamillo trusts children, and it makes her writing remarkable. She trusts them to feel a range of complicated emotions, to experience hardship just like any adult, and to be capable, kind, cruel, self-directed, and a little lost. Beverly's journey into a place away from her everyday world is a perfect respite from our own, though it never shies away from the fact that life is difficult. Runaway she may be, but Beverly is so clear-eyed and decisive that you might be inclined to follow her anywhere."
— Alex Schaffner, Brookline Booksmith, Brookline, MA
Description
---
As featured on The Today Show's Read with Jenna Jr. Book Club

Revisiting once again the world of Raymie Nightingale, two-time Newbery Medalist Kate DiCamillo turns her focus to the tough-talking, inescapably tenderhearted Beverly.

Beverly put her foot down on the gas. They went faster still.
This was what Beverly wanted — what she always wanted. To get away. To get away as fast as she could. To stay away.

Beverly Tapinski has run away from home plenty of times, but that was when she was just a kid. By now, she figures, it's not running away. It's leaving. Determined to make it on her own, Beverly finds a job and a place to live and tries to forget about her dog, Buddy, now buried underneath the orange trees back home; her friend Raymie, whom she left without a word; and her mom, Rhonda, who has never cared about anyone but herself. Beverly doesn't want to depend on anyone, and she definitely doesn't want anyone to depend on her. But despite her best efforts, she can't help forming connections with the people around her — and gradually, she learns to see herself through their eyes. In a touching, funny, and fearless conclusion to her sequence of novels about the beloved Three Rancheros, #1 New York Times best-selling author Kate DiCamillo tells the story of a character who will break your heart and put it back together again.
About the Author
---
Kate DiCamillo is one of America's most beloved storytellers. She is a former National Ambassador for Young People's Literature and a two-time Newbery Medalist. Born in Philadelphia, she grew up in Florida and now lives in Minneapolis.
Praise For…
---
DiCamillo writes in a spare style, describing small, seemingly disparate moments that gradually come together in a rich, dynamic picture. The other thing she does brilliantly is shape characters whose eccentricities make them heartbreakingly, vividly real, like Elmer, whose acne-covered face is a mask that hides his humanity; Freddie, the young waitress with great expectations that are colored by untruths; and owlish Iola Jenkins, whose willingness to take a chance on Beverly counts for everything. Thoughtful and hopeful in equal measure.
—Booklist (starred review)

This thoughtful companion to two-time Newbery Medal–winner DiCamillo's Raymie Nightingale and Louisiana's Way Home follows Beverly Tapinski, the third of the Three Rancheros, in August 1979—four years after the first book's events...Secondary characters—sensitive teen store clerk Elmer, who's interested in art; bingo enthusiast Iola; and the staff of Mr. C's—are well defined through concise narrative and dialogue, and DiCamillo builds them into a new community that matters a great deal to Beverly. But it's Beverly's private moments—thoughts of the other Rancheros, a message revealed, a love for the term lapis lazuli—that move her from being a person in flight to a present, whole participant in her world.
—Publishers Weekly (starred review)

The story moves languidly at first, as Beverly absorbs her surroundings, and then more quickly, as she realizes that if she "wants things to change," she must meet those things head on. Drawn with unusual depth, the members of Beverly's small community emerge as complex individuals but also, collectively, as a force for change and goodwill—just like the three friends who began this journey together.
—The Horn Book (starred review)

DiCamillo has described her trilogy as being about 'becoming' and 'the power of community.' Drawing each girl's story with subtle yet bold strokes, DiCamillo delivers novels that feel both beautifully spare and deeply rich. With lovely reminders of the angels who help us all find our way in this sometimes unbearable world—as well as the enduring power of stories, kindness, hope and surprising possibilities—Beverly, Right Here completes DiCamillo's superb trilogy, which is destined to remain a classic.
—BookPage (starred review)

In this third book about the girls, DiCamillo mixes familiar ingredients: absent parents, disparate friends, the ability to drive a car, the power of generosity, and the satisfaction of a big celebratory meal...simply told and progressing in real time, readers encounter this world through Beverly's eyes and mind, finding pleasure in small things, appreciating friends of all sorts, coming to terms with losses, and moving on. A satisfying read that stands alone but is richer for its company.
—Kirkus Reviews

In her signature style of short, accessible prose sprinkled with carefully chosen, meaningful words, DiCamillo once again tells extraordinary stories with ordinary characters. This is a multilayered story of hope, from Iola who wants to win a turkey from the VFW Christmas in July, to Freddie who has big dreams, to Elmer who loves art and poetry and wants to be an engineer, to Beverly herself, who just wants things to be different than they are. Beverly acts tough and uninterested, but underneath she is tender and vulnerable. ­This is not a lighthearted book, but it is heartwarming and touching. Highly recommended.
—School Library Journal

As with the other titles, this is a real-world fairy tale about a lost girl finding home; Beverly's prickly personality and DiCamillo's smooth understated prose keep the sentimentality at bay here, though, and add some edge to the wishful details of Beverly's experience. Beverly's gradual thawing into a belief in her own value is deftly depicted, and the story will inspire yearning in many readers for a similar escape and soft landing.
—Bulletin of the Center for Children's Books

As hopeful as it is heartbreaking, Beverly, Right Here offers up messages of trust and self-worth that are important for all young people to hear.
—Foreword Reviews

The warm hearts of the young people more than compensate for the inadequacies of the adults. Language Arts teachers could use the book to conduct character and dialogue studies. If the other two books in the trilogy, Raymie Nightingale (Candlewick Press 2016) and Louisiana's Way Home (Candlewick Press 2018) have been welcomed into your collection, be sure to add this title.
—School Library Connection
Free Media Mail shipping on U.S. orders over $75