This Is How You Lose the Time War (Paperback)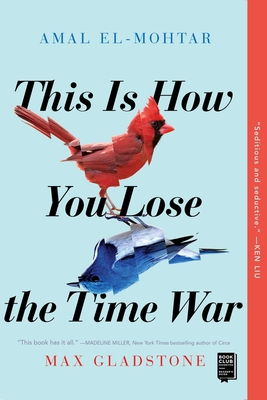 Staff Reviews
---
Occasionally, I've gotten to the end of a story and joked to a friend, "That was great: best coaster in the park. I want to go again!" And while it's true that I'm a big re-watcher and re-reader, when I say "again," it's understood that I mean eventually.
When I finished listening to the audiobook of This Is How You Lose the Time War, I bought the hardcover and (re)read it the next day. And then gave a copy to someone later that week. This Is How You Lose the Time War is the story of two agents of two competing futures, locked in conflict across multiple eras and multiple timelines. Call the agent of The Agency Red. At the start of the book, Red stands on the field of a battle she won – mostly won – is not convinced she won – and finds a hidden letter. The letter is signed Blue. It confirms the existence of a counter agent for The Garden who is Red's equal, or close to. The letter is taunting but also admiring. Naturally, Red has to respond.
The descriptions of the various ways the letters are left by one and located by the other are beautiful and strange and grotesque by turns. The entire book is beautiful and strange. The various battles of the time war overlap actual battlefields and assassinations, but more hinge on something as small as whether a scientist discusses birdsongs with their nieces and nephews on a particular spring day.
As Red and Blue fight across battlefields and lifetimes followed by a mysterious seeker, trading letters and stories while chasing each other up and down time's thread, their loyalties start to shift. But turning an agent of the other side is surely a way to win the Time War, and clever letters may ultimately be just another tool in a time agent's arsenal.
— Ginger
Description
---
HUGO AWARD WINNER: BEST NOVELLA

NEBULA AND LOCUS AWARDS WINNER: BEST NOVELLA

"[An] exquisitely crafted tale...Part epistolary romance, part mind-blowing science fiction adventure, this dazzling story unfolds bit by bit, revealing layers of meaning as it plays with cause and effect, wildly imaginative technologies, and increasingly intricate wordplay...This short novel warrants multiple readings to fully unlock its complexities." —Publishers Weekly (starred review).

From award-winning authors Amal El-Mohtar and Max Gladstone comes an enthralling, romantic novel spanning time and space about two time-traveling rivals who fall in love and must change the past to ensure their future.

Among the ashes of a dying world, an agent of the Commandment finds a letter. It reads: Burn before reading.

Thus begins an unlikely correspondence between two rival agents hellbent on securing the best possible future for their warring factions. Now, what began as a taunt, a battlefield boast, becomes something more. Something epic. Something romantic. Something that could change the past and the future.

Except the discovery of their bond would mean the death of each of them. There's still a war going on, after all. And someone has to win. That's how war works, right?

Cowritten by two beloved and award-winning sci-fi writers, This Is How You Lose the Time War is an epic love story spanning time and space.
About the Author
---
Amal El-Mohtar is an award-winning author, editor, and critic. Her short story "Seasons of Glass and Iron" won the Hugo, Nebula, and Locus awards and was a finalist for the World Fantasy, Sturgeon, Aurora, and Eugie Foster awards. She is the author of The Honey Month, a collection of poetry and prose written to the taste of twenty-eight different kinds of honey, and contributes criticism to NPR Books and The New York Times. Her fiction has most recently appeared on Tor and Uncanny Magazine, and in anthologies such as The Djinn Falls in Love & Other Stories and The Starlit Wood: New Fairy Tales. She is presently pursuing a PhD at Carleton University and teaches creative writing at the University of Ottawa. She can be found online at @Tithenai.

Max Gladstone is the author of the Hugo-nominated Craft Sequence, which Patrick Rothfuss called "stupefyingly good." The sixth book, Ruin of Angels, was released September 2017. Max's interactive mobile game Choice of the Deathless was nominated for the XYZZY Award, and his critically acclaimed short fiction has appeared on Tor and in Uncanny Magazine, and in anthologies such as XO Orpheus: Fifty New Myths and The Starlit Wood: New Fairy Tales. John Crowley described Max as "a true star of 21st-century fantasy." Max has sung in Carnegie Hall and was once thrown from a horse in Mongolia.
Praise For…
---
* "[An] exquisitely crafted tale…. Part epistolary romance, part mind-blowing science fiction adventure, this dazzling story unfolds bit by bit, revealing layers of meaning as it plays with cause and effect, wildly imaginative technologies, and increasingly intricate wordplay… This short novel warrants multiple readings to fully unlock its complexities."
— Publishers Weekly, STARRED REVIEW

"If Iain M. Banks and Gerard Manley Hopkins had ever been able to collaborate on a science fiction project, well, it wouldn't be half as much fun as this novella. There is all the pleasure of a long series, and all the details of a much larger world, presented in miniature here."
— Kelly Link

"This book has it all: treachery and love, lyricism and gritty action, existential crisis and space-opera scope, not to mention time traveling superagents. Gladstone's and El-Mohtar's debut collaboration is a fireworks display from two very talented storytellers."
— Madeline Miller, Winner of the Orange Prize for Fiction

"Seditious and seductive, lush and lustrous, allusive and elusive, THIS IS HOW YOU LOSE THE TIME WAR is one of those rare stories where one struggles to decide whether to heap more praise upon its clever structure and prose or its brilliant ideas and characters. Never mind ... sit back and let it wind its way into your mind, until, with a start, you realize that you no longer know where the story ends and you start."
— Ken Liu author of The Grace of Kings and The Paper Menagerie and Other Stories

"Lyrical and vivid and bittersweet. An absolutely lovely read from two talented writers."
— Ann Leckie, Hugo and Nebula Award-winning author of Ancillary Justice

"An intimate and lyrical tour of time, myth and history, with a captivating conversation between characters—and authors. Read it."
— New York Times bestselling author John Scalzi

"This Is How You Lose the Time War is rich and strange, a romantic tour through all of time and the multiverse, and you shouldn't miss a moment."
— Martha Wells, Hugo Award-winning author of The Murderbot Diaries

"A time travel adventure that has as much humanity, grace, and love as it has temporal shenanigans, rewriting history, and temporal agents fighting to the death. Two days from now, you've already devoured it."
— Ryan North, New York Times Bestselling and Eisner Award winning author of How To Invent Everything: A Survival Guide For The Stranded Time Traveler

"Poetry, disguised as genre fiction. I read several sections out loud — this is prose that wants to be more than read. It wants to be heard and tasted."
— Kelly Sue DeConnick, author of Captain Marvel

"A twisting, sapphic time travel fantasy love story that never stops surprising: El-Mohtar and Gladstone have written the ultimate in enemies-to-lovers romance."
— Booklist, Starred Review

"Seditious and seductive, lush and lustrous, allusive and elusive, THIS IS HOW YOU LOSE THE TIME WAR is one of those rare stories where one struggles to decide whether to heap more praise upon its clever structure and prose or its brilliant ideas and characters."
—Ken Liu, author of The Grace of Kings and The Paper Menagerie and Other Stories

Tenderness, danger, daring, wit — Time War has them all... In other words, these pages are strewn with myriad delights.
— Nisi Shawl