Where We Live: Mapping Neighborhoods of Kids Around the Globe (Hardcover)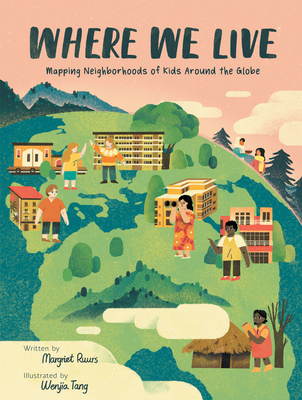 Description
---
This fascinating look at 16 children's neighborhoods around the world broadens readers' understanding of global cultures.
This unique illustrated map book explores the neighborhoods of 16 real children from around the world. Author Margriet Ruurs, who met many of these children in her travels, tells the story of each child's neighborhood by highlighting the places that are important to them, such as where they live, go to school and play, as well as interesting facts about their lives, including the food they eat, their religious practices and the sights and smells they encounter every day. From big cities, such as Amsterdam and Beijing, to small communities, such as Salt Spring Island in Canada and the village of Komanyana in Zambia, each place is special to the children who live there.
In the book's opening pages, Ruurs explains what a map is and what its component parts are: compass rose, legend, scale bar. Then, each child's story gets its own spread, with Wenjia Tang's playful and inviting maps as a backdrop featuring illustrations of the important places and a legend specific to that map. Each of the maps in the book is based on the child's actual neighborhood. The "Say It!" box includes words and phrases in the child's native language. This book has a wealth of social studies applications: it's both a valuable resource … and an insightful look at how much children around the world have in common, this book has a wealth of social studies applications. It makes a perfect jumping-off point for projects in which children create their own map and story or do further research on any of the neighborhoods in the book. Back matter includes activities, a glossary, an author's note and a further-reading list.
About the Author
---
Margriet Ruurs is the author of more than thirty books for children, including Families Around the World, School Days Around the World and Birthdays Around the World. A regular guest speaker at international schools, she often writes about the real children she meets on her travels. Margriet lives with her family on Salt Spring Island, British Columbia.
Wenjia Tang is a freelance illustrator with an affinity for children's books and maps. After graduating from the Maryland Institute College of Art, she turned her attention to illustrating children's books. You can find her work in Under Your Feet and Up & Down. Born and raised in southeast China, Wenjia now makes her home in New York City.
Praise For…
---
A moving and unforgettable true story ...—Kirkus Reviews, starred review (Praise for Elephant Keeper)

This is one of those books that wouldn't last long, as young readers can pour over the beautiful illustrations and get lost in it page-by-page again and again.—Canadian Children's Booknews

Children today have access to global information, but Where We Live offers them the important first steps to becoming an open, curious global citizen.—CM Magazine

An easy, enjoyable way to start thinking about similarities and differences around the world.—Kirkus Reviews (Praise for Birthdays Around the World)

A lighthearted overview of school-day life that will leave readers considering how their routines compare to those of their global peers.—Publishers Weekly (Praise for School Days Around the World)

A pleasant book to browse through or for simple research, with a diverse cast and population numbers that will make world travelers even of the armchair variety—School Library Journal
Free Media Mail shipping on U.S. orders over $75