We are offering FREE media mail shipping on books. We are open from 10am-7pm Monday through Saturday and 10am-6pm Sunday. Phones may not be answered due to a high volume of calls.
The World of Lore: Dreadful Places (Hardcover)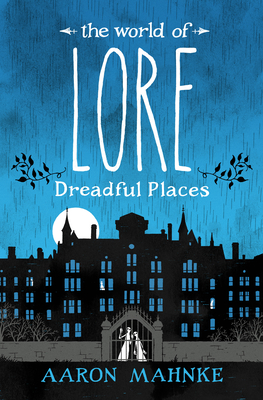 $28.99
Available from warehouse in 1-5 business days
Other Books in Series
This is book number 3 in the The World of Lore series.
Staff Reviews
---
Ever enter a dark room feeling that there was something off? Walk through the woods with a growing sense of unease? Maybe hear and see strange sights & sounds in an old abandoned place?
Welcome to The World of Lore: Dreadful Places! Master storyteller Aaron Mahnke returns with the 3rd book of the Lore trilogy. Here, readers are introduced to places throughout the world that leave people unable to trust their senses and realize that, perhaps, there is more going on here than meets the eye!
Good fun reading for anyone who wants to enjoy history with a dash of the supernatural!
— Bud
Description
---
Captivating stories of the places where human evil has left a nefarious mark, featuring stories from the podcast Lore—now a streaming television series—including "Echoes," "Withering Heights," and "Behind Closed Doors" as well as rare material.
 
Sometimes you walk into a room, a building, or even a town, and you feel it. Something seems off—an atmosphere that leaves you oddly unsettled, with a sense of lingering darkness. Join Aaron Mahnke, the host of the popular podcast Lore, as he explores some of these dreadful places and the history that haunts them.
 
Mahnke takes us to Colorado and the palatial Stanley Hotel, where wealthy guests enjoyed views of the Rocky Mountains at the turn of the twentieth century—and where, decades later, a restless author would awaken from a nightmare, inspired to write one of the most revered horror novels of all time. Mahnke also crosses land and sea to visit frightful sites—from New Orleans to Richmond, Virginia, to the brooding, ancient castles of England—each with its own echoes of dark deeds, horrible tragedies, and shocking evil still resounding.
 
Filled with evocative illustrations, this eerie tour of lurid landmarks and doomed destinations is just the ticket to take armchair travelers with a taste for the macabre to places they never thought they'd visit in their wildest, scariest dreams.

The World of Lore series includes:
MONSTROUS CREATURES • WICKED MORTALS • DREADFUL PLACES

Praise for World of Lore: Dreadful Places

"Well-written, rooted in deep historical research, and ridiculously entertaining . . . Each chapter brings a creepy story from folklore to life. . . . Hair-raising stuff."—SyFy Wire
 
"Fans of the Lore podcast won't want to miss this latest volume in the creator's series, a collection of illustrated versions of both rare and well-known stories about 'lurid landmarks and doomed destinations.'"—io9
 
"Dreadful Places is a delight for Lore fans and newbies alike. In the book, [Aaron] Mahnke visits places around the world that are steeped in a supernatural legacy."—Refinery29
About the Author
---
Aaron Mahnke is the writer, host, and producer of Lore, as well as the author of a number of supernatural thrillers. His deep love of the mysterious and frightening began with Unsolved Mysteries and The X-Files—and it's a love that continues to this day. Basically, he's a nerd for anything inexplicable or supernatural. Mahnke lives with his family in the historic North Shore area of Boston, the very heart of Lovecraft Country and the Salem witch trials.
Praise For…
---
"Well-written, rooted in deep historical research, and ridiculously entertaining . . . Each chapter brings a creepy story from folklore to life. . . . Hair-raising stuff."—SyFy Wire
 
"Fans of the Lore podcast won't want to miss this latest volume in the creator's series, a collection of illustrated versions of both rare and well-known stories about 'lurid landmarks and doomed destinations.'"—io9
 
"Dreadful Places is a delight for Lore fans and newbies alike. In the book, [Aaron] Mahnke visits places around the world that are steeped in a supernatural legacy."—Refinery29

Praise for the Lore podcast
 
"Truth can often be much scarier than fiction—something [Aaron] Mahnke proves as he dives deep into the world of folklore and the darker side of history in a quest to root out the fragment of truth at the bottom of our fears."—Entertainment Weekly
 
"Unlike so much horror that needs over-the-top viscera to scare you, this podcast leans on history—folklore, myth, the stuff people once thought was true—to tell its tales."—The Atlantic
 
"Narrated by Mahnke in a style that evokes spooky campfire stories, Lore is a history lesson like no other."—Esquire