The Princess Beard: The Tales of Pell (Paperback)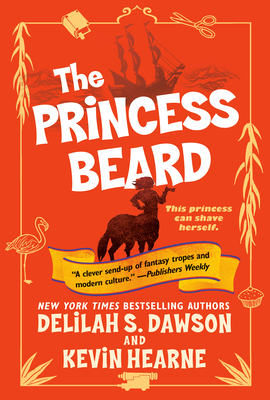 Other Books in Series
This is book number 3 in the The Tales of Pell series.
Description
---
This princess can shave herself! The hilarious bestselling authors of Kill the Farm Boy and No Country for Old Gnomes are back with a new adventure in the irreverent world of Pell.

Once upon a time, a princess slept in a magical tower cloaked in thorns and roses. 

When she woke, she found no Prince Charming, only a surfeit of hair and grotesquely long fingernails—which was, honestly, better than some creep who acted without consent. She cut off her long braids and used them to escape. But she kept the beard because it made a great disguise.

This is not a story about finding true love's kiss—it's a story about finding yourself. On a pirate ship. Where you belong.

But these are no ordinary pirates aboard The Puffy Peach, serving under Filthy Lucre, the one-eyed parrot pirate captain. First there's Vic, a swole and misogynistic centaur on a mission to expunge himself of the magic that causes him to conjure tea and dainty cupcakes in response to stress. Then there's Tempest, who's determined to become the first dryad lawyer—preferably before she takes her ultimate form as a man-eating tree. They're joined by Alobartalus, an awkward and unelfly elf who longs to meet his hero, the Sn'archivist who is said to take dictation directly from the gods of Pell. Throw in some mystery meat and a dastardly capitalist plot, and you've got one Pell of an adventure on the high seas!

In this new escapade set in the magical land of Pell, Delilah S. Dawson and Kevin Hearne lovingly skewer the tropes of fairy tales and create a new kind of fantasy: generous, gently humorous, and inclusive. There might also be otters.
About the Author
---
Delilah S. Dawson is the author of the New York Times bestseller Star Wars: Phasma, Hit, Servants of the Storm, the Blud series, the creator-owned comics Ladycastle and Sparrowhawk, and the Shadow series (written as Lila Bowen). She lives in Florida with her family and a fat mutt named Merle.

Kevin Hearne hugs trees, pets doggies, and rocks out to heavy metal. He also thinks tacos are a pretty nifty idea. He is the New York Times bestselling author of The Iron Druid Chronicles, the Ink & Sigil series, and the Seven Kennings series, and is co-author of The Tales of Pell with Delilah S. Dawson.
Praise For…
---
Praise for Delilah S. Dawson and Kevin Hearne's Kill the Farm Boy

"A rollicking fantasy adventure that upends numerous genre tropes in audacious style . . . a laugh-out-loud-funny fusion of Monty Python–esque humor and whimsy à la Terry Pratchett's Discworld."—Kirkus Reviews

"Dawson and Hearne's reimagining of a traditional fairy tale is reminiscent of William Goldman's The Princess Bride and William Steig's Shrek! Irreverent, funny, and full of entertaining wordplay, this will keep readers guessing until the end."—Library Journal

"Will have you laughing out loud until strangers begin to look at you oddly."—SyFy

"A smart comedy . . . nuanced, complicated, and human."—Tordotcom

"[Dawson and Hearne] make fun of the typical 'white male power fantasies,' and in that, they succeed, with their heroes all characters of color and/or falling somewhere under the LGBTQ umbrella."—Publishers Weekly

"When you put two authors of this high caliber together, expect fireworks. Or at least laughs. What a hoot!"—Terry Brooks

"A rollicking adventure about friendship and finding one's place in the world . . . [a] fantastic series finale. Dawson and Hearne crown their trifecta of tempestuous hilarity with enough puns and fairy tale spoofs to tickle anyone's funny bone."
—Booklist (starred review)
 
"Challenge[s] gender roles in fantasy and skewer[s] social trends . . . This is a clever send-up of fantasy tropes and modern culture."
—Publishers Weekly
We will be open on Memorial Day from 10 AM until 6 PM.
Free Media Mail shipping on U.S. orders over $50