Out of Time: A Novel (Hardcover)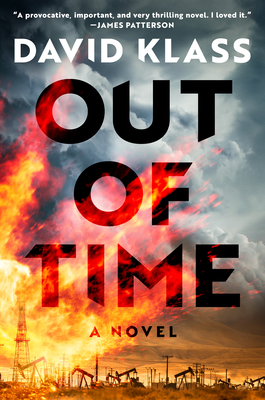 $27.00
Email or call for price.
Description
---
In this explosive thriller, a fiendishly clever serial bomber and self-styled "eco-terrorist" hits targets across America--and a conflicted young FBI agent may be the only person possessing the unique skills needed to catch him.

"A provocative, important, and very thrilling novel. I loved it. I savored the pages." —James Patterson
"A gripping, complex and heart-wrenching story that is as provocative as it is thrilling. Klass can weave a tale like few others." —David Baldacci

A massive FBI manhunt is underway for an elusive and terrifyingly adept serial bomber. He's just struck his sixth target, Idaho's Boon Dam, killing a dozen innocent people. But the bomber, who the press has dubbed "Green Man," insists these drastic acts of violence--each one carefully selected to destroy a target that threatens the environment--are necessary to draw the world's attention to the climate-change emergency.

The FBI has no real leads. It's as if Green Man can predict every step of their investigation, skillfully evading all their standard tactics.

Until young agent Tom Smith approaches the task-force leader with an unexpected insight. Tom, a computer programmer by training, may be the only person with the unique skill set needed to catch Green Man before he strikes again....
About the Author
---
David Klass is the author of many critically acclaimed young adult novels and has also written more than forty feature screenplays for Hollywood studios, including Desperate Measures (starring Michael Keaton), Kiss the Girls (starring Morgan Freeman and adapted from the novel by James Patterson), Walking Tall (starring The Rock), and In the Time of the Butterflies (starring Salma Hayek and adapted from the novel by Julia Alvarez). He has also written for Law & Order: Criminal Intent and currently runs the TV Writing concentration at the film program at Columbia University's Graduate School of the Arts.
Praise For…
---
"Mr. Klass, an experienced screenwriter, incorporates shifting points of view and a score of diverse characters with well-developed backstories. His top-notch thriller builds toward a fateful showdown as Tom races to foil Green Man—even as the hands of that apocalyptic clock tick toward midnight."
—The Wall Street Journal
 
"Out of Time is a provocative, important, and very thrilling novel. I loved it. I savored the pages."
—James Patterson, #1 New York Times bestselling author

"A gripping, complex, and heart-wrenching story that is as provocative as it is thrilling. Klass can weave a tale like few others." 
—David Baldacci, #1 New York Times bestselling author

"A page-turner. . . . Out of Time is definitely worth the read."
—New York Journal of Books

"Terrific. . . . [A] compelling cat-and-mouse chase by [a] veteran Hollywood scriptwriter. . . The plotting is impeccable."
—The Times (London), "Thriller of the Month"

"Klass's race-to-the-finish-line tale . . . is a whale of a ride."
—The Guardian (UK)

"The author has done his homework, whether it's explaining the latest in high-tech crime-fighting toys or the mechanics of fracking, which should persuade anyone of its harmfulness. By blending science and technology with plentiful action, Klass has produced a thought-provoking read for those who prefer camping to the beach."
—Air Mail
 
"David Klass's thriller is a thought-provoking stunner of a read. . . . The novel has its own moral imperative—to highlight the ticking bomb that is climate change within the constructs of a twisty, unrelenting, morally robust thriller."
—Star Tribune (Minneapolis)

"An impressive and compelling book with an intriguing and complex antagonist, and a wealth of fascinating background information on the environment. An exciting and fast-paced thriller."
—Canberra Weekly Reviews

"Exciting . . . The topic is timely, the pacing is pedal-to-the-metal."
—Publishers Weekly
 
"A thrill ride that keeps getting better and better."
—Red Carpet Crash

"Author and screenwriter David Klass turns the serial killer mythos on its head in his new novel, Out of Time, in which the killer is intent on saving humankind through his inconceivable deeds. . . . Klass writes with terse, straightforward prose . . . to allow readers a close-up perspective of each character's motivations and desires. The fun is in the thrill of the chase, and in that respect Klass delivers."
—BookPage

"Rich in insight, powerfully written, Out of Time by David Klass pits two brilliant foes against one another in a riveting chess game of suspense. One is an eco-extremist who bombs and kills, while the other is a young, unorthodox FBI man who goes rogue in a desperate attempt to stop him.  From the first paragraph, you'll know you're in the hands of a master storyteller and embarking on an unforgettable adventure."  
—Gayle Lynds, New York Times bestselling author of The Assassins