The Big Book of Jokes for Minecrafters: More Than 2000 Hilarious Jokes and Riddles about Booby Traps, Creepers, Mobs, Skeletons, and More! (Paperback)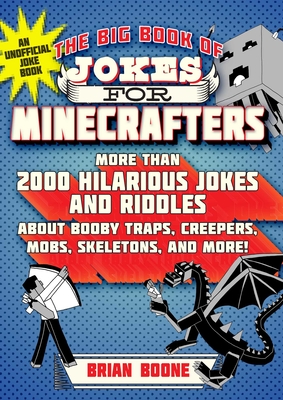 Description
---
"Dig in" to your favorite Minecraft jokes!
All your favorite Minecraft jokes are now in one place! This collection of three titles from the Jokes for Minecrafters series brings you over two thousand puns, one-liners, and wisecracks about all your favorites from the world of Minecraft. From ghasts and endermen to zombies and creepers, no mob is safe from the punchlines in this laugh-a-minute collection. Included titles are:
Jokes for Minecrafters (9781510706330)
Hilarious Jokes for Minecrafters (9781510706323)
Uproarious Riddles for Minecrafters (9781510727175)
This ginormous joke book for kids ages 5 and up comes complete with silly illustrations to make these jokes even funnier. Whether you're at home or at school, you can have all your friends and family in stitches with
The Big Book of Jokes for Minecrafters
!  
About the Author
---
Brian Boone wrote the music trivia (with jokes) book I Love Rock 'n' Roll (Except When I Hate It). He is a regular contributor to Funny or Die, Popdose, Splitsider, and The Retroist, and his work has appeared on McSweeney's Internet Tendency, Adult Swim, The Impersonals, and the Huffington Post.
Free Media Mail shipping on U.S. orders over $50