Anna Karenina (Hardcover)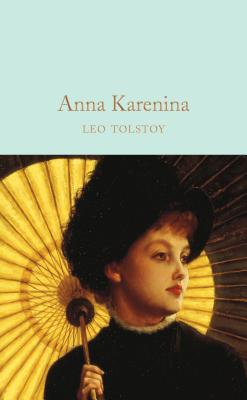 $14.99
Available from warehouse in 1-5 business days
Staff Reviews
---
A well respected translator of Russian fiction, Schwartz was determined to give us Anna Karenina as Tolstoy wrote it: In the simple, unadorned language he preferred. I found this translation immensely powerful - bringing me to tears at times.  It is also illuminating -revealing nuances in the characters I'd never before grasped. The cogent introduction by Gary Saul Morson,  which summarizes the novel's central themes, provides a great starting point for book club discussion. 
— Samantha
Description
---
Designed to appeal to the book lover, the Macmillan Collector's Library is a series of beautifully bound pocket-sized gift editions of much loved classic titles. Bound in real cloth, printed on high quality paper, and featuring ribbon markers and gilt edges, Macmillan Collector's Library are books to love and treasure.
The sweeping love story of two people who defy the conventions of their age to follow the dictates of their hearts. Trapped in a stifling marriage, Anna Karenina is swept off her feet by the dashing Count Vronsky. When the truth about their passionate liaison comes out, Anna's husband is more concerned with keeping up appearances than anything else, but at last he seeks a reluctant divorce. Rejected by society, the two lovers flee to Italy, where Anna finds herself isolated from all except the man she loves, and who loves her. But can they live by love alone? In this novel of astonishing scope and grandeur, Leo Tolstoy, the great master of Russian literature, charts the course of the human heart.
About the Author
---
Count Lev (Leo) Nikolaevich Tolstoy was born at Vasnaya Polyana in the Russian province of Tula in 1828. He inherited the family title aged 19, quit university and after a period of the kind of dissolute aristocratic life so convincingly portrayed in his later novels, joined the army, where he started to write. Travels in Europe opened him to western ideas, and he returned to his family estates to live as a benign landowner. In 1862 he married Sofia Behr, who bore him 13 children. He expressed his increasingly subversive, but devout, views through prolific work that culminated in the immortal novels of his middle years, War and Peace and Anna Karenina. Beloved in Russia and with a worldwide following, but feared by the Tsarist state and excommunicated by the Russian Orthodox church, he died in 1910.