We are offering FREE media mail shipping on books. We are open from 10am-7pm Monday through Saturday and 10am-6pm Sunday. Phones may not be answered due to a high volume of calls.
You Know You Want This (Compact Disc)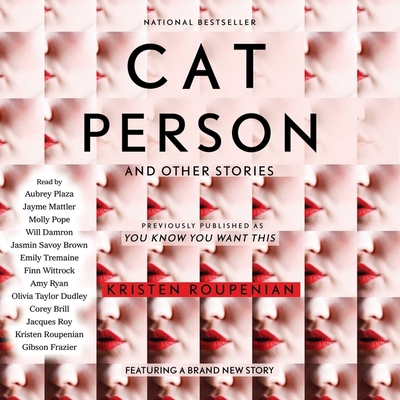 $39.99
Hard to find: allow 24 hours for information
Staff Reviews
---
Hard-pressed to find time to read lengthy novels? Try this collection of offbeat, provocative stories! Ranging from the mundane to the truly fantastical, Roupenian's short storieswill shock you (in a good way!) from the first page.
At its heart, this collection explores how women are limited by our current world and the perverted ways in which we might be forced to act to gain an inkling of respect or power.
— Kiwi
February 2019 Indie Next List
---
"I was completely enthralled with Kristen Roupenian's 'Cat Person' story in the New Yorker and couldn't wait to pick up her collection. Like 'Cat Person,' each story pushes boundaries, holding a magnifying glass up to social norms and what our society accepts. The writing is fantastic, and the cadence of each story is strikingly unique. This book will delight fans of Roupenian's viral story and will start many more conversations in its wake."
— Courtney Flynn, Trident Booksellers & Cafe, Boston, MA
Description
---
From the author of "Cat Person"--"the short story that launched a thousand theories" (The Guardian)--comes Kristen Roupenian's highly anticipated debut, a compulsively readable collection of short stories that explore the complex--and often darkly funny--connections between gender, sex, and power across genres.You Know You Want This brilliantly explores the ways in which women are horrifying as much as it captures the horrors that are done to them. Among its pages are a couple who becomes obsessed with their friend hearing them have sex, then seeing them have sex...until they can't have sex without him; a ten-year-old whose birthday party takes a sinister turn when she wishes for "something mean"; a woman who finds a book of spells half hidden at the library and summons her heart's desire: a nameless, naked man; and a self-proclaimed "biter" who dreams of sneaking up behind and sinking her teeth into a green-eyed, long-haired, pink-cheeked coworker. Spanning a range of genres and topics--from the mundane to the murderous and supernatural--these are stories about sex and punishment, guilt and anger, the pleasure and terror of inflicting and experiencing pain. These stories fascinate and repel, revolt and arouse, scare and delight in equal measure. And, as a collection, they point a finger at you, daring you to feel uncomfortable--or worse, understood--as if to say, "You want this, right? You know you want this.