Bullshit Jobs: A Theory (Compact Disc)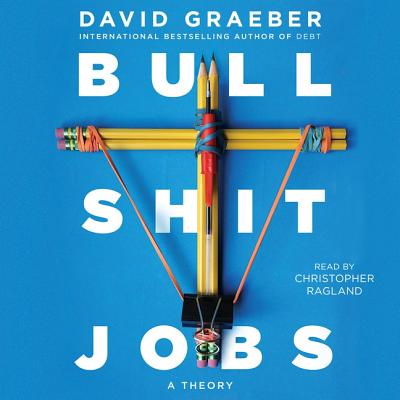 $44.99
Email or call for price.
Staff Reviews
---
A compulsory talking point for any politician – left or right – is job creation, employment, and the well-being of the economy in relation to the two. But hardly anyone seems to consider whether the jobs themselves are meaningful or necessary, or even doing more harm than good.
The aptly titled Bullshit Jobs is about exactly that: meaningless jobs that even the people working them admit contribute nothing to society. A bullshit job, as defined by the late anthropologist David Graeber, typically involves being overpaid for doing an ultimately unnecessary and fruitless task (or variety of tasks). They usually find their home in bloated administrative departments, corporate law firms, PR, marketing, and many others.
This is an essential read for anyone even mildly interested in labor relations and the economy, and what can be done to improve them to work toward a more equitable and just society.  
— Alex
Description
---
From bestselling writer David Graeber, a powerful argument against the rise of meaningless, unfulfilling jobs, and their consequences.Does your job make a meaningful contribution to the world? In the spring of 2013, David Graeber asked this question in a playful, provocative essay titled "On the Phenomenon of Bullshit Jobs." It went viral. After a million online views in seventeen different languages, people all over the world are still debating the answer. There are millions of people--HR consultants, communication coordinators, telemarketing researchers, corporate lawyers--whose jobs are useless, and, tragically, they know it. These people are caught in bullshit jobs. Graeber explores one of society's most vexing and deeply felt concerns, indicting among other villains a particular strain of finance capitalism that betrays ideals shared by thinkers ranging from Keynes to Lincoln. Bullshit Jobs gives individuals, corporations, and societies permission to undergo a shift in values, placing creative and caring work at the center of our culture. This book is for everyone who wants to turn their vocation back into an avocation.